There are literally hundreds (if not thousands!) of apartments to rent in Florence for tourists and students alike. This section details just a few of the many places on the web where you can find them. One of our favorites is Palazzo Uguccioni on the historic and beautiful Piazza della Signoria.

Follow us:
Below are some of our most recent entries posted in the Apartments & Villas category - use the links at the end of the page to access all the articles individually.

The charming studio apartment "Leonardo" is in the heart of Florence, with views onto the Piazza Signoria and the Palazzo Vecchio. Situated on the first floor, the apartment has a large drawing room with a fireplace and a double bed, an intimate corner with a sofa and coffee table, a kitchen, and a bathroom. A great place to spend a romantic week this winter in Florence.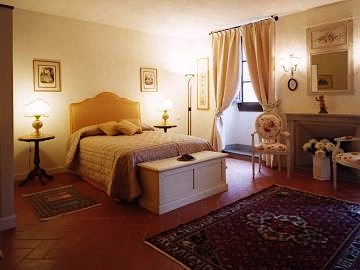 ---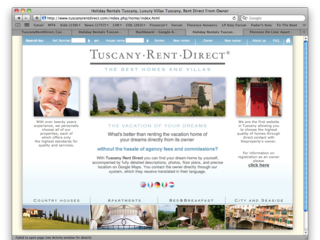 If you are looking for a villa rental in Tuscany we would like to suggest a newer site that is quickly gaining traction on the web, Tuscany Rent Direct. This is to our knowledge one of the only Italian owned and operated sites of its kids - providing direct rentals from owners. They specialize and focus on Tuscany and personally select all their inventory to ensure a high standard of quality. Check them out there ever growing list of villas and apartments if you are looking for a holiday rental in Tuscany:
---

Casa In Toscana is the website of our friend, realtor Nikolaus Barnewitz. Nik has been selling real estate in Tuscany and around the Chianti Classico zone for more than 10 years and he has all the expertise to help foreign buyers find their dream home in Tuscany. He also has a great staff that will help you with everything you could need in buying a new home to relocate in or as an investment property. If you are thinking of real estate in Chianti, make sure you check them out.
---
For a memorable stay in an historic Florentine palace, Palazzo Uguccioni offers five vacation rental suites in Piazza della Signoria. All the apartments are on the top floor of the palace, thus avoiding the noise of the busy piazza and affording breathtaking views of the Palazzo Vecchio, Duomo, Bargello and Badia Fiorentina.
Palazzo Uguccioni is not a hotel or a tourist rental agency, but is a Florentine family who has restored part of a prominent building. From the website:
We are simply a Florentine family with a desire to create something original. In fact, we have refurbished these 5 magical apartments in the heart of our beautiful city. We now offer them to those who wish to experience the city center, as an open-air museum, to those who wish to be in close contact with art and history, and to those looking for a chance to discover parts of the city which have remained authentic and to savour those rare moments which have remained typically Florentine. In other words, to be able to step out from your door and discover all of Florence only mere footsteps away.
The palazzo itself has a famous Renaissance facade, dating back to 1550. Although the architect is believed to be Mariotto di Zanobi Folfi, the design is often attributed to Raphael. You can't get more historic than that...
www.palazzouguccioni.it
[email protected]
---
Conde Nast's Portfolio.com has a profile on the high end real estate and villa rental company "The Best In Italy":
Like the European aristocrats in Henry James novels, Brandolini trades in connections, linking New World money with Old World nobility and property. Financier Felix Rohatyn, film mogul Paula Wagner, and ad supremo Charles Saatchi have all been clients of Brandolini's. When Tom Cruise and Nicole Kidman were still married and sought a secluded Tuscan bolt-hole, the Contessa secured them the Villa Pisana, a stately 19th-century mansion discreetly tucked into a 7,400-acre estate outside Pisa. Sting, a longtime client of Brandolini's, once brought along his mobile studio to record an album in his rental villa. Brandolini persuaded the owners--who weren't quite sure what this blonde inglese actually did--not to balk at the trucks and hordes of technicians"
---