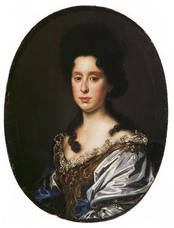 Today is February 18th, an important date for the cultural legacy of this great city. 266 years ago, on February 18th, 1743 Anna Maria Luisa de' Medici died and left all the holdings of her dynastic family to the city of Florence.
Visitors today walk through the family palace and admire the masterpieces of Renaissance art thanks to a pact that Anna Maria Luisa signed in 1737 that ensured that these Medici monuments would be protected by the Florentine state.
As the daughter of the Grand Duke of Tuscany Cosimo III, her fate, like all young women of noble origin, was to be married off into a foreign family with potential for political alliances and economical gains. She was sent to Düsseldorf and her arranged marriage to Johann Wilhelm, Elector Palatine took place on June 5, 1691.
In 1716 soon after her husband's death she returned to Florence where she lived out the rest of her life albeit in the shadows of her rather controversial and eccentric brother Gian Gastone who became the Grand Duke after the death of Cosimo III.
Gian Gastone had a penchant more for parties and much less for paternity and died in his bedroom at the Pitti Palace after a particularly raucous event that lasted several days. His "heirless" death in 1737 prompted the Medici pact signed by his sister Anna Maria Luisa bequeathing Florence as the heir to their holdings and stipulating that nothing should ever be removed from the city.
To see: There is a statue dedicated to Anna Maria Luisa behind the Church of San Lorenzo (not a particularly attractive likeness) and a grand portrait upon entering the Uffizi Gallery. Of course, today would be the day to visit the Pitti Palace and all of its museums, the Uffizi Gallery, the Church of San Lorenzo, and the tombs of the Medici family.