September is a prime time of year to taste wine in and around Florence and the rest of Tuscany - the vineyards throughout the region are busy with the harvest and the towns are buzzing with activity. There are several festivals and tastings that happen this month every year - below we talk about just a few of them in the Chianti Classico region and Florence.
We went to one of the biggest this weekend in Greve, the Chianti Classico Wine Festival or "Rassegna del Chianti Classico" - sorry I didn't write about it before it took place! It is usually the second weekend in September every year though, so you can plan on that in the future. The weather (cool and lots of rain) kept the crowd down a bit this year, but made it easier for us to get to the wines we wanted to taste. This year the tasting glass was 10 Euro, which included 8 samples - 4 from the producer stalls, and 4 from the wine bar. It was more than enough - we actually gave our tickets away with a couple of punches left, and often people won't even punch your card if you are sampling more than one wine at a stand or take the time to spend a few minutes with the producer. This event takes place in Greve's charming and historic triangular main square, Piazza Matteotti.
Tthe third weekend in September every year for the past dozen years or so is one of my favorites wine tastings - the Vino al Vino festival in Panzano. Many of Panzano's producers are at this event - the quality of the wine is very high, and the mood is festive. The event is held in the small square of Piazza Bucciarelli that is right along the 222 as you come into Panzano from the north or south - it is hard to miss and even harder to park! The following Vino al Vino promotional film (in Italian with English subtitles) has nice footage of the picturesque landscapes around Panzano as well as a quick overview of the event:
Video from Brice Ansel on Vimeo.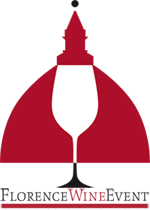 And the following weekend (usually - this event has flipped flopped from the spring to the fall the last several years) there is the newer Florence Wine Event that takes place in several locations in the Oltrarno - Piazza Pitti, Piazza Santo Spirito and Piazza della Passera. At this year's festival some of the best Italian and Tuscan wine makers will be presenting their wines from the regions of Chianti, Bolgheri, and Brunello di Montalcino, along with white wines from the northern regions. You can acquire your wine tasting glass with a brochure at one of the two "Glass Points" and spend the day wandering around and sampling some amazing wines. A few of our favorites on the list this year: Fattoria di Rignana, Petra, and Casale dello Sparviero.