Below are some of our most recent entries posted in the Outside the center category - use the links at the end of the page to access all the articles individually.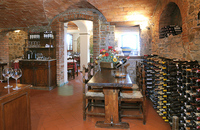 Trattoria Omero in Florence is characterized by a rustic yet elegant environment, offering two spacious dining rooms of each 70 seats and a magnificent terrace with another 45 seats during summertime. Both dining rooms and terrace face splendid views of the surrounding hills.
The menu offers simple but tasty dishes prepared according to the best of Tuscan traditions which include freshly homemade pasta, stuffed pasta, whole wheat pasta, such as "penne strascicate", "pappardelle" pasta in hare sauce, grilled meat, fried dishes, the traditional "bistecca alla fiorentina" steak and "pollo schiacciato" chicken, venison specialities, home made desserts and much more.
LOCATION: Via Pian dei Giullari 11r, Firenze
TELEPHONE: 055 22 00 53
---
Girasol is a restaurant, pizzeria and cocktail bar combined in 350 square meters of colors and flavors! The ideal venue for birthday parties, special events and business dinners, Girasol is famous for its rich dishes "taglieri", its excellent pizzas and the tasty second courses of Argentine beef. Girasol is open until late at night to accommodate customers' needs. The cocktail bar provides delicious cocktails, quality beers and a large selection of rum from all over the world. The music selected by the DJs provides an excellent accompaniment to an enjoyable experience.
LOCATION: Via del Romito 1r, Firenze
TELEPHONE: (39) 055 474948
EMAIL: [email protected]

---
Perseus is guaranteed to please a variety of tastes with an excellent selection of all the quintessential Tuscan appetizers, hearty bean soups, salads, pizzas, wine, home-made desserts and their specialty, marvelous grilled meats. Included in this area is of course the bistecca fiorentina, which you must be prepared to eat 'al sangue', rare, as the integrity of the chef won't permit it to be consumed any other way. Freshly cut vegetables, as opposed to the usual bread basket, are presented at your table upon arrival, providing something to munch on while keeping your appetite strong for the delicacies to follow.
Although this bustling and unpretentious restaurant is all about the food, the energetic staff and traditional surroundings add to the culinary experience. Don't forget to reserve!
LOCATION: Viale Don Giovanni Minzoni 10r, Firenze
TELEPHONE: (39) 055 588226
---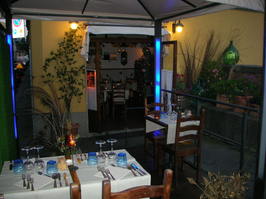 In the charming area of Ponte Rosso, you can find Pane e Olio, a wonderful and welcoming little restaurant with a maximum capacity of 34 people. Brothers, Francesco and Alessandro from Genova, manage the restaurant with passion. The specialty is fresh fish and selections from the 'a la carte' menu change daily. In the evening you can eat dinner under the stars in the garden accompanied by pleasant music. Wine choices include many from the Liguria region of Italy. Excellent service and high quality products makes the difference at Pane e Olio.
LOCATION: via Faentina 2r, Firenze
TELEPHONE: (39) 055 488 381
EMAIL: [email protected]
---