The renovation to the pavement and lawn of Piazza Santa Maria Novella seems to be completed (as of August 2009). Curiously the new pavement does not fully encircle the area - there is black top around the one corner. This may be necessary (or temporary) as this spot is where the new underground waste disposal system is.
There are new benches in the center of the piazza, and the very green lawn now has a sprinkler system. It does appear that you can use the lawn also - I didn't see any "Keep Off The Grass" signs and also no physical barriers to the area.
The video was shot early one morning in the first half of August with the cleaning crew hard at work.
This satellite photo from Google shows the piazza during the renovation: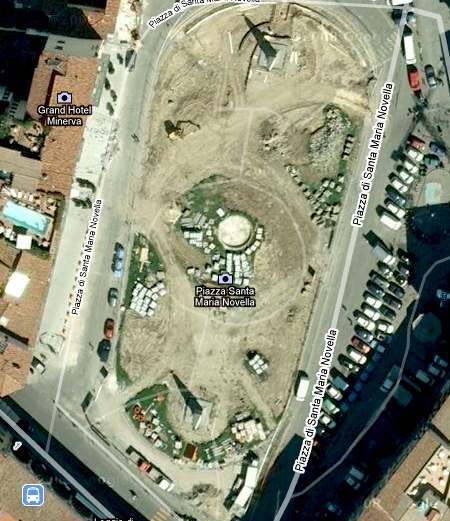 Here is an additional video from YouTube showing the piazza right before the lawn was reopened - this is probably late June or early July 2009: