Home
/
Churches & Cathedrals
/ Basilica of Santa Croce
Basilica of Santa Croce
All new photo album of the church of Santa Croce coming soon! Most of the points on the below map will be included: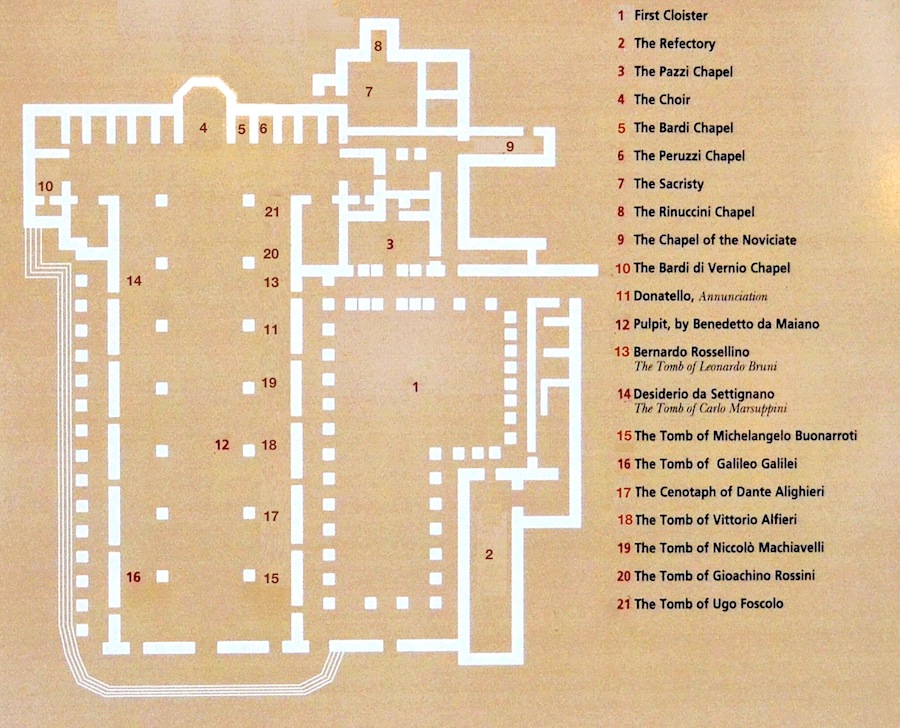 From the Opera di Santa Croce:
The Basilica of Santa Croce in Florence was built circa 1294, perhaps by a plan of Arnolfo di Cambio. It was constructed with funding from the population and the Florentine Republic and built above the foundations of a small church which some monks had erected outside the walls of the city in 1252, just a few years after the death of St. Francis. The remains of the original building were not identified until 1966, when in the aftermath of the great flood that sumerged the city, part of the paving belonging to the present Basilica gave way. From its beginnings, the history of Santa Croce has been closely linked to the history of Florence itself. It has been continually re-planned and re-designed throughout the course of those seven centuries without suffering significant interruptions, and therfore acquiring new symbolic connotations each time. From the original Franciscan church it evolved to become a religious "town hall" for the important families and corporations when Florence was ruled by the Medici family. From being a craftsmen's laboratory and workshop - first Humanist and then Renaissance - it became a theological centre; and in the 19th Century, it saw a change from being a pantheon of the nation's glories to a place of reference for the political history of Italy before and after its unification.
The below was taken from the brochure of the Opera di Santa Croce and should be accurate, as of June 2012:
Opening hours:
Monday through Saturday 9:30 AM to 5:30 PM (ticket office closes at 5:00 PM). The ticket is valid for one day and one entrance only. Sundays and Holidays 1:00 PM to 5:30 PM (ticket office closes at 5:00 PM)
Free Admission
1. For religious services
2. Children from 11 years of age
3. Disabled persons and the escorts
4. Residents of Florence
5.Tour Guides
Reduced Admission
1. From 11 to 17 years of age
2. Groups of over 15 persons, school groups and accompanying adults
Opera di Santa Croce
Piazza Santa Croce 16
50122 Firenze
Tel. 055 24 66 105
Fax 055 24 66 105
Email: [email protected]
Official website: http://www.santacroceopera.it

Last update:
comments powered by

Disqus