Home
/ Santa Croce
Santa Croce
Frommers review: Under a barrel-vaulted ceiling and dim sconce lights, diners sit elbow-to-elbow at tightly packed tables to sample this innovative restaurant's assaggi (tastings) courses. Acqua al 2 is proud of its almost cultish status, attained through the success of its assaggio di primi, which offers you a sampling of five flavorful pastas or risotti. If you order the assaggio for two, you b...
read more.
---
This home-style trattoria is always closely packed with its regular clientele. The simple decor of red-checked tablecloths is the epitomy of "Italian", and the food follows suit. The menu includes classic Italian dishes like fried (fritto), boiled (bollito) and roasted (arrosto) meats, plus fish specialties on Friday. The pastas and soups are fabulous. If you're looking for a welcoming atmosphere ...
read more.
---
"All'Antico Vinaio has two restaurants side-by-side and both under the same ownership - one is a sandwich shop famous for overflowing tuscan panini and the other a sit-down osteria offering seasonal specialties. The sandwich shop is popular with the student community and local shopkeepers because it's a great place for a quick, cheap and delicious lunch. Order a sandwich from their menu, or crea...
read more.
---
Popular with both Florentines and foreigners alike, the small sandwich shop All'Antico Vinaio is the perfect place to grab a quick bite and wash it down with some local wine. With a convenient location on a pedestrian street behind the Uffizi Gallery, you can choose from a wide range of reasonably-priced crostini, sandwiches, cheeses, Italian cold cuts and roasted meats. Some of the dishes are pr...
read more.
---
At Alle Murate the definition of excellence means combining meticulous, original culinary scholarship with the custody and value of the artistic and historical legacy of the building that houses us in Florence. With constant, passionate study of the culture, this cuisine always offers balanced flavors, made from pure ingredients prepared with care: the true quality of Italian cooking is its simp...
read more.
---
---
You can still find the genuine atmosphere of the ancient Florentine trattorias at the Antico Fattore, whose walls once cradled a meeting place for the creative talents in the arts and literature from 1929 onwards. The Antico Fattore had always been and still is a school for many lovers of good food. It has won the praises of gastronomists of reknown for its famous sage giblets and its roulades o...
read more.
---
Since 1945 Buca Dell' Orafo has been offering to Florentines and tourists, traditional Tuscan plates in an atmosphere that reproduces the typical environment of an ancient Florentine restaurant. It's also open for lunch but isn't the place for a fast meal. To eat properly requires time and as such the service is relaxed. The wines offered include the best that Tuscany has to offer as well as a few...
read more.
---
Osteria del Caffe Italiano is the place for a light lunch at a special price, for a tasty snack with the best salami and cheese form Tuscany, for an aperitif in the evening and dinner after the theater. The food is made of simple recipes, prime ingredients searched with passion in every corner of the region. The small Pizzeria of Caffe Italiano is connected to the Osteria but has a separate entr...
read more.
---
One of the most characteristic places in Florence, Cantina Barbagianni is well known for its creative cuisine but also for its traditional Tuscan dishes. You can enjoy a delicious meal in the beautiful entrance room or in one of the two ancient cellars that offer an unforgettable atmosphere of Florence of the past. The restaurants separate areas of the ground floor and basement give Cantina Barba...
read more.
---
Frommer's review: There's no pasta and no grilled meat -- can this be Tuscany? Rest assured that while Fabio Picchi's culinary creations are a bit out of the ordinary, most are based on antique recipes. Cibrà¨o actually has a split personality; this is a review not of the trattoria branch across the street, but of the fan-cooled main restaurant room, full of intellectual babble, where the elegan...
read more.
---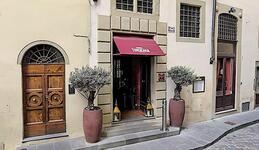 A newer restaurant, very near where Trattoria Leo used to be on via Torta. We don't know this place personally but it looks like a large, full service, commercial/tourist type of enterprise featuring Tuscan food and pizza (which makes sense being so close to Piazza Santa Croce). From their Facebook page: Ristorante, osteria e pizzeria a Santa Croce, nel cuore di Firenze 1000mq di ristorazione. ...
read more.
---
In the heart of the city of the Medici, a two minute walk from Piazza della Signoria, one unexpectedly discovers the solemn Palazzo Jacometti Cioffi. Accessed through two granite columns into a temple of taste is Enoteca Pinchiorri. The combination of the Italian and French cultures through the partnership of Giorgio Pinchiorri, an Italian from Modena, and Annie Feolde, from Nice, has resulted in ...
read more.
---
Take the tuscan table and add the skillful touch of flavor, fantasy and lightness. Put yourself in a welcoming place like the family dining room and add handful of elegance with antique lamps, marble tables and wood furniture. Positioned beside all the magnificence of the Santa Croce basilica you have the trattoria Il Francescano with it's captivating kitchen of traditional tastes. The trattoria ...
read more.
---
Frommers review: Despite their considerable skill in the kitchen, Florentines just can't make a decent pizza. It takes a Neapolitan to do that, so business has been booming ever since Naples-born Carmine opened Il Pizzaiuolo. Even with a reservation, you might have to wait for a spot at a long marble table. You've come to the right place for a pizza, but this is also one of the best places in th...
read more.
---
La Giostra is a busy restaurant on Borgo Pinti, well known in tourist circles but a bit ignored by Florentines (but then again what restaurant in the center isn't). We ate there recently, following are my impressions. The crowd is a healthy mix of tourists and Italians, and the meal overall was fantastic. The room is a little tight (not uncommon in Florence) and got a little noisy from a fine din...
read more.
---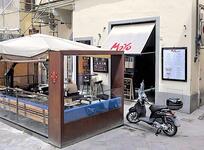 Moyo is a trendy, club-like spot for breakfast, brunch, a light lunch (pranzo veloce), or aperitivo (they call it "Apericena"). At night it is a mostly younger crowd - and I mean crowd. Moyo is on Via dei Benci, just steps from the Arno. From the corner of Via dei Neri up until around Piazza Santa Croce, Via dei Benci is party central on most nights with people spilling out of the various clubs a...
read more.
---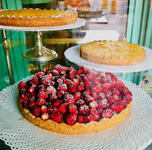 Traditional Italian Pastries at Pasticceria Dolci e Dolcezze Pasticceria Dolci e Dolcezze is a wonderful, old school Florentine pastry shop that has been serving up traditional Tuscan pastries for over 50 years. The shop is located on Piazza Cesare Beccaria, in walking distance from the Piazza Santa Croce. While famous for its baking, it also has a beautiful, almost antique, nostalgic feel. It is...
read more.
---
One of our favorite all time places to eat in Florence is the Ristorante Boccadama. Located in Piazza Santa Croce, this is real Tuscan and other regional Italian food in a great setting, with prompt, efficient, and friendly service. In season you can dine al fresco too. Lunch is amazing, and prices are very reasonable. Some of our favorites are the lasagna, pasta & fagioli, and spaghetti carbonara...
read more.
---
Ruth's is essentially Florence's only kosher restaurant and located next door to the city's beautiful synagogue. The menu, which is enhanced with a number of daily specials, is primarily vegetarian but also contains many fish dishes, all at decent prices. The blends of flavor and aroma are enjoyed in a cosy environment by a clientele which is often a mix of people from all over the globe. LOCATIO...
read more.
---
Conveniently located next to Piazza Santa Croce, one of the main tourist spots in Florence,Trattoria Baldovino is a great place to eat good local food and wine at reasonable prices. The menu includes fresh and delicious options of antipasti, salads, pastas and their highly recommended pizza which you have the option of enjoying either inside or outdoors. Relax and refuel with an authentic meal at ...
read more.
---
We found a great restaurant last night, Trattoria Il Giova. By great, I mean very good food, reasonable prices, and friendly service. Definitely my kind of place - much more of a bistro than a fancy restaurant. It seemed to be family run - we weren't sure but it looked liked just the dad/owner/chef was in the kitchen preparing all the hot food himself. Two more woman ran the room - one was mostly...
read more.
---