Home
/ Santa Maria Novella
Santa Maria Novella
Framed by Via Tornabuoni is Buca Lapi Restaurant. It is comfortable and elegant. Tables are laid out carefully and the service is first rate. Thanks to Luciano Ghinassi, the owner, and his 40 year old passion for cooking, Buca Lapi has become the most famous tuscan trattoria in Italy. Before going there, it is advisable to book a table. The Buca Lapi is the oldest restaurant in Florence. It was f...
read more.
---
When you arrive at Coco Lezzone; you will be received with a smile. The rooms are small and minimal, with white tablecloths and small flowerpots which decorate the tables where everyone sits together. The lights are bright and there isn't any exotic atmosphere, everything feels like the typical 1800's household. You'll then start your journey back in time through the ancient flavors and tastes. Yo...
read more.
---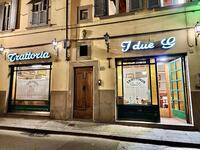 At the Trattoria I Due G you are able to enjoy the most famous dishes Tuscany has to offer cooked to perfection. Try some classic favorites like truffle pasta, artichokes and fried courgette flowers. Their renowned Bistecca Fiorentina is famed throughout Italy, as well as their succulent roasted lamb that comes accompanied by choice seasonal vegetables. All of which can be polished of with fresh ...
read more.
---
At L' Osteria di Giovanni you can always expect great food and friendly service. It's a family affair with english-speaking sisters, Caterina and Chiara, taking charge and providing a comfortable and welcoming atmosphere to their clientele consisting of a mix of well-dressed italians and tourists. Among a consistently delicious menu of new versions of Tuscan favorites, the Tortelli is a pleasure n...
read more.
---
The charming atmosphere of Ostaria dei Centopoveri (the tavern of the hundred poor people) holds up with excellent dishes of creative variations on traditional Tuscan cuisine. The dishes are rich and varied, using fresh, top quality ingredients. Choose from fresh seafood, pizzas, excellent pasta and a range of flavorful daily specials. They have more than 350 labels of top quality wine from every ...
read more.
---
---
Rossini is located in the building of a beautiful old palazzo(palace) along the Arno river. The atmosphere is warmly formal and elegant, and dressed in black ties, the waiters are charming and pleasant. The food is exceptionally imaginative and delicious, utilizing fresh and seasonal ingredients with a menu that changes from month to month. There is also a set gourmet tasting menu available to exp...
read more.
---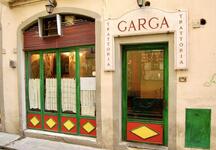 Trattoria Garga is a mecca for food lovers and renowned chefs, such as the Food Network's Rachel Ray, who said about Trattoria Garga: "The more I dine out, the clearer the distinction has become between good food and soulful food. Garga has a soul all its own, and the dishes I've eaten here, such as Pasta Magnifico, Veal with Avocado and the famous cheesecake, taste of love, passion and curiosity ...
read more.
---
Around the tables of il Latini friendships are interwoven, all the world's languages are spoken, fervent discussions are held and everyone tastes food that has the flavour of the old times past. Il Latini means tradition: a means of discovering Tuscany and its people. The kitchen is where the best products of Tuscany's countryside are turned into the dishes typical of the tuscan tradition. Il Lat...
read more.
---