Home
/ Day Trips
Day Trips
I went down to Rome a couple of weeks ago to see some friends from America who were on holiday. The weather has been great so far (for November) and it was a perfect day for photos. Here are a few from around the Roman Forum: ...
read more.
---
You can reach many interesting cities from Florence in a day - even outside Tuscany. I finally made it to Milan (about 3 hours on the Eurostar train - 42 euro each way, 2nd class the new trains starting in mid-December 2009 will cut this trip to about an hour and a half!) for the first time a few weeks ago, and even though it was a rainy day I had a great time strolling around the center of the ci...
read more.
---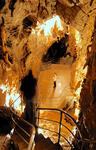 North of Lucca, in the area known as the Garfagnana, is the Grotta del Vento - one of the most accessible (and highly commercialized!) caves in Tuscany. As a day trip from Florence with kids, it is pushing the limit - we followed the directions on the official website, which had us getting off the main highway much earlier than Lucca, and it was slow and tedious going trying to stay on the correct...
read more.
---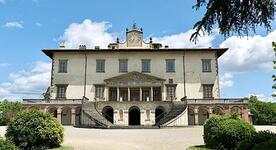 Poggio a Caiano is a former Medici villa at the foot of the Albano hills. It is on record as being the only surviving architectural structure commissioned by Lorenzo the Magnificent, and became a favorite of his that was used by the family dynasty for centuries. It was also one of the favored summer residences of the grand duchess of Tuscany Elisa Baciocchi Buonaparte, Napoleon's sister, and the p...
read more.
---
We spent a relaxing winter weekend in Sillico recently - a small hamlet of about 100 people in the region known as the Garfangana (just about a 2 hour drive from Florence). The Garfangana is up the Serchio river valley north of Lucca, and lies between the Alpi Apuane (famous for Carrara marble) and the Apennines. We stayed in a lovely little apartment that is part of a triplex just below (100 met...
read more.
---
---
Vinci is a small village about an hour from Florence by car (see map below), and most famous as the birthplace of Leonardo da Vinci. The town is surrounded by hills with the typical Tsucan landscape of vineyards and olive groves that are much the same as in Leonardo's time. There is a little piazza with an installation by Italian artist Mimmo Paladino which we thought was interesting the day we v...
read more.
---