Home
/ Shopping
Shopping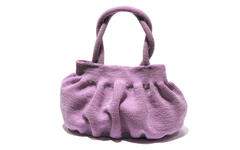 One of Florence's most unique and contemporary boutiques is the hand made collection of accessories and jewelry at Aprosio & Co., a tiny atelier tucked away in the most confusing little area of streets on via del Moro (at 75 and 77r). Aprosio & Co. on via del Moro, image courtesy of Google Maps This shop is owned and operated by Roman born Ornella Aprosio, who has been making these objects sinc...
read more.
---
"Epoca" is a new designer label vintage shop at Via dei Fossi 6r (near Piazza Goldoni). Epoca has all kinds of clothes, shoes, hats, bags, etc. from leading Italian designers, like the beautiful Pucci blouse we saw in the window there last week. Although the global economic situation has definitely affected Florence, and many stores have closed (and continue to close!) there are also new things li...
read more.
---
I am a little upset since we have had this same sort of idea, but of course have yet to try it. I am talking about a new on-line store called "Florence In A Box". From their press release: "Florence, Italy (PRWEB) December 14, 2006 -- Artisan home and giftware site, Florence in a Box, announces the launch of an online store at http://www.florenceinabox.com. Florence in a Box features authentic an...
read more.
---
GUYA is actually two separate shops - one on via Por Santa Maria, and another on via Calimala, closer to Piazza della Repubblica (these are actually the same street physically but just have different names - very common in Florence). They feature unique designers from Italy and around the world, and carry both men's and women's fashion. Besides their two unique boutiques (which are a must visit w...
read more.
---
http://www.gabriellananni.it Tel. 39 055 21 48 38 Keeping on the shopping theme that Ellen started, here is a neat little jewelry store that a Florentine informed me of - Gabriella Nanni. I am not a big jewelry or gold fan, but this shop has all hand made one of a kind pieces that are made from 925 silver and semi-precious stones, shells, pebbles, pearls and corals. They are very beautiful object...
read more.
---
---
We learned late in the game that Esselunga grocery store has online shopping with direct delivery to your house. We spent our first year in Florence dragging a shopping bag on wheels across the cobblestone streets of the city - not an easy task. I'm glad those days are over....
read more.
---
Summer is over and I've put away most of my sandals. So yesterday I pulled out some shoes I bought last Spring, and I'm realizing how much I really like them. I bought them at a little shop on Via Nazionale called "Mondo Albion", where a quirky guy makes shoes. The store is half workshop and half display. Most of the displays are what I would consider more "costume" shoes than wearable shoes - lot...
read more.
---
La Perla is one of Italy's most well known brands, with a reputation for fine lingerie and other apparel. The La Perla boutique in Florence is at 22 via degli Strozzi (map below the photo), near the Palazzo Strozzi. You can also shop on line by clicking on the logo. ...
read more.
---
Luisa Via Roma is one of the hippest boutiques in Florence, if not in all of Italy. It is really a destination not to be missed if you are into high fashion, up and coming designers, and want to be seen in the trendiest and latest that the Italian fashion world has to offer. The store was recently completely renovated, and features large touch screen monitors where you choose items from the shop...
read more.
---
Yesterday we took our first trip to the Mercato Centrale, or the Mercato di San Lorenzo. We browsed through two gorgeous floors of fresh food, but ended up feeling unprepared and not buying much. Next time we need to go with a menu in mind and some recommendations in hand. I found a great write-up about the market on the web and I'll definitely bring "La Guida del Mercato" with me next time. This ...
read more.
---
I learned just in the nick of time that Florence stores have huge end-of-season sales during the second week of January. This year they started the Saturday after Three Kings Day (January 7th) - I saw the date posted in the paper (but I would assume it's the same general schedule every year). On Saturday the streets were mobbed - I've never seen Centro so jammed with people. Sunday many of the sto...
read more.
---
A quick rundown of where to shop in Florence from Nove da Firenze: "Looking for the perfect vintage piece? Pitti Vintage on Sducciolo Dei Pitti has an ample array of well-maintained dresses, shoes, jewelry and other pieces dating from last season to as far back as 1930. Check out the handbags and old-school clutches, they have everything from patent leather to crocodile skin, to add some flare t...
read more.
---

The Gold Market is a popular jewelry store on Piazza Santa Croce - they have been in business at this location for almost 50 years. You can shop on their website and have their gold jewelry shipped from Italy to most countries. The Gold Market has jewelry for women, men, and children, as well as roman coins and silver. The Gold Market is open 7 days a week except for some public holidays, 9 a.m. ...
read more.
---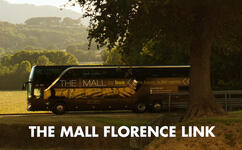 The Mall Bus, image courtesy of Busitalia Group People are always asking on travel websites, social media, and blogs: "How do I get to The Mall?" - or even, "What is The Mall in Florence?" "The Mall" is a super high-end boutique outlet not far from Florence that features only the best luxury brands. FYI, it may be an "outlet", but this is high end designer label shopping - if you come back from ...
read more.
---
The Scuola del Cuoio is right behind (actually it is attached to) the church of Santa Croce. It is both a leather school and shop, offering a variety of courses and hand made leather goods for sale, and has been run by the same family for nearly 60 years. This recent article describes the school in more detail. There is an entrance off of Via San Giuseppe, or you can enter the school directly thro...
read more.
---