Below are some of our most recent entries posted in the Shopping category - use the links at the end of the page to access all the articles individually.

GUYA is actually two separate shops - one on via Por Santa Maria, and another on via Calimala, closer to Piazza della Repubblica (these are actually the same street physically but just have different names - very common in Florence). They feature unique designers from Italy and around the world, and carry both men's and women's fashion.
Besides their two unique boutiques (which are a must visit when you are in Florence), they just "opened" their brand new website where you can shop for all the latest fashion trends from wherever you are in the world:
Want to keep up to date on GUYA? Sign up for their newsletter, or follow them on Facebook or Twitter.
---
La Perla is one of Italy's most well known brands, with a reputation for fine lingerie and other apparel. The La Perla boutique in Florence is at 22 via degli Strozzi (map below the photo), near the Palazzo Strozzi. You can also shop on line by clicking on the logo.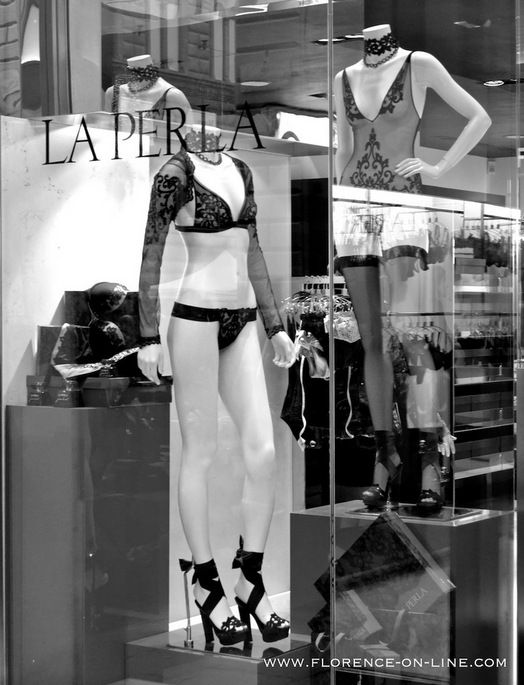 Continue reading
La Perla
.
---
"Epoca" is a new designer label vintage shop at Via dei Fossi 6r (near Piazza Goldoni). Epoca has all kinds of clothes, shoes, hats, bags, etc. from leading Italian designers, like the beautiful Pucci blouse we saw in the window there last week. Although the global economic situation has definitely affected Florence, and many stores have closed (and continue to close!) there are also new things like this popping up in different spots all over town, which is great to see. Via dei Fossi is a very fancy street filled with antique dealers and high end carpet and home furnishing shops - it is neat to have a store like Epoca in the mix there.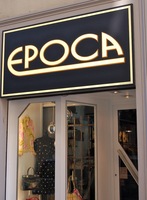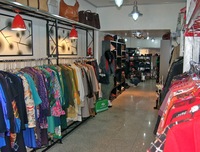 EPOCA
Via dei Fossi 6/r
Cell: 339 2518587
Email: [email protected]
---
Every Thursday there is a flower and plant market just off Piazza Repubblica (starting in the south-west corner). Here are a few recent photos to get you in the mood: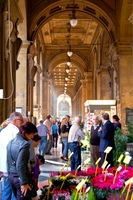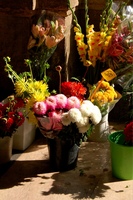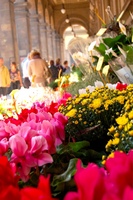 ---

People are always asking on travel websites and blogs, "How do I get to The Mall?". "The Mall" is a super high-end boutique outlet not far from Florence that features only the best luxury brands. FYI, it may be an "outlet", but this is high end label shopping - if you come back from here laden with bags, you'll have spent thousands of euros.
Some of the brands you will find:



Balenciaga


Fendi


Gucci


Pucci


Ferragamo


Stella McCartney


YSL


...to name but a few. So how do you get there? That's after the jump.
Continue reading
The Mall, Florence
.
---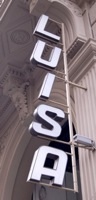 Luisa Via Roma is one of the hippest boutiques in Florence, if not in all of Italy. It is really a destination not to be missed if you are into high fashion, up and coming designers, and want to be seen in the trendiest and latest that the Italian fashion world has to offer.

The store was recently completely renovated, and features large touch screen monitors where you choose items from the shop and then have them brought to you in a private dressing room. They also have a suite available for VIPs, and are very involved in the Florentine fashion shows, the throwing of fabulous parties, and all the other things that the beautiful people do.
LUISA VIA ROMA
Via Roma, 19/21r
50123 Florence (FI), Italy
Tel. +39 055 9064116
http://www.luisaviaroma.com/
Continue reading
Luisa Via Roma
.
---

The Gold Market
is a popular jewelry store on Piazza Santa Croce - they have been in business at this location for almost 40 years. They have a brand new
website
and now you can buy their gold jewelry directly from Italy and have it shipped to most countries.
The Gold Market
Piazza Santa Croce 20/r
50122 Florence (FI), Italy
Tel. 055 242 983
http://the-gold-market.com
---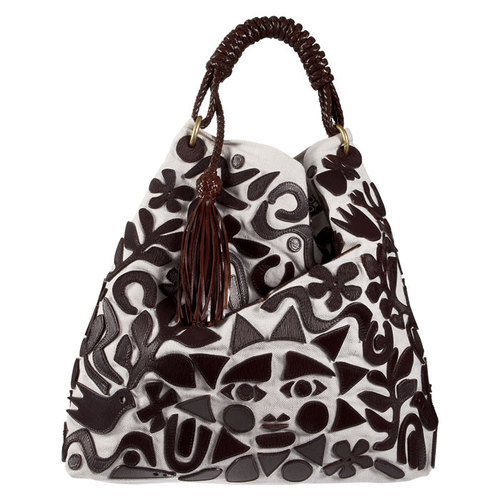 Luxist.com is reporting that this stylish bag is made in Florence:
"Melissa Loyd Maish, the former creative director of Bally, has her own line of purses. The atelier is based in Florence, Italy and the line features luxe looks in leather and linen. My favorites are the Sunset models, adorable linen bags with leather appliqués shaped as birds, suns and other organic shapes. The tote is white linen with brown leather and sells for $770."
---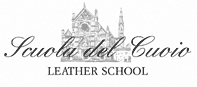 The Scuola del Cuoio is right behind (actually it is attached to) the church of Santa Croce. It is both a leather school and shop, offering a variety of courses and hand made leather goods for sale, and has been run by the same family for nearly 60 years. This recent article describes the school in more detail. There is an entrance off of Via San Giuseppe, or you can enter the school directly through the Church. Worth a visit, especially if you are leather shopping.
Scuola del Cuoio: Piazza Santa Croce 16, Florence; 39 (055) 244-533; http://www.leatherschool.com
---
I am a little upset since we have had this same sort of idea, but of course have yet to try it. I am talking about a new on-line store called "Florence In A Box". From their press release:
"Florence, Italy (PRWEB) December 14, 2006 -- Artisan home and giftware site, Florence in a Box, announces the launch of an online store at http://www.florenceinabox.com. Florence in a Box features authentic and unique handcrafted products from Tuscany.

The new online store offers a variety of gifts varying from traditional to contemporary designs. Consumers can choose from gifts including ceramics, wood, glass, silver, fine art, jewelry, and more. All items are specially gift wrapped in an elegant box decorated with traditional Florentine paper. Pieces are often handcrafted using tools and techniques invented hundreds of years ago.

"Our purpose is to provide a truly high quality online shopping experience," says Lilla Molho, owner of Florence in a Box. "At the same time people can discover and acquire the finest artwork and handcrafted items available today in Tuscany."
We wish them good luck!
---