Home
/ Travel Tips
Travel Tips
We just heard back from Palazzo Antellesi that they could provide a mini van from the airport in Bologna to the Pallazo for €160. We haven't heard back from either of the other companies we tried to contact about this, so we went ahead and confirmed the ride with the Palazzo. At about $200 door to door it seems well worth it - remember we have two small children and will probably have 12 piec...
read more.
---
We are researching getting to Florence after we arrive in Bologna. There is a shuttle bus from the airport to the train station, where you can then catch one of several classes of train to Florence - they all seem to take about an hour, some a little longer. We also found a site earlier today that has private cars for hire (with a driver). We have an email into them asking for a price. I hav...
read more.
---
We found another company that looks like it may be able to provide car service from Bologna to Florence. I am a little unsure of their name - the title of the page is "Private Tours in Tuscany, Italy" - the URL is http://www.prestigerent.com, and at the top of thier home page it says "PRIVATE TOURS IN TUSCANY". They appear to be a tour company, with car and mini van service. We...
read more.
---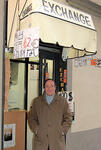 The best place to exchange - change money (cash) in Florence is with Carlo (or his son Marco) in their tiny shop (actually just a window you walk up to) the size of a closet that is tucked into the side of the Uffizi. They have been changing money in this spot for over 50 years, and have the best rates (really!) in town. Carlo is a real Florentine and a great guy - he speaks Italian, English and...
read more.
---
We got a phone call from a family member about an hour ago saying they found this great fare on the web. The company is EuroFly USA and we just booked our air from JFK to Bologna, one way, for about $1,600.00 for 2 adults and 2 kids. This is the best deal we have seen by far. EuroFly seems to be a reputable carrier - we will let you know! Anthony...
read more.
---
---
ENTRY REQUIREMENTS: A valid passport is required. Italian authorities may deny entry to travelers who attempt to enter without a valid passport. A visa is not required for tourist stays up to three months. However, for all other purposes, such as work, study, etc., a visa is required and must be obtained from the Italian Embassy or Consulates before entering Italy. See our Foreign Entry Requi...
read more.
---
The mother of all European travel websites is Durant Imboden's Europe For Visitors. With over 500,000 visitors a month and over 4,000 pages of original content, this is one of the most authoritative sites on the web. He was kind enough to check out our fledgling effort here and has included a link to Florence Journal from his extensive Florence section....
read more.
---
Here is the video we made from the snow storm on December 18, 2009: ...
read more.
---
You can find plenty of forecasts on the web for the weather in Florence, but I have been searching for some information on the general climate conditions from season to season. While it seems a bit dated and the page has some broken links, this is about the best information I have found so far: "To begin with winter (Early December-Early March), Florence alternates between crisp clear and cold we...
read more.
---
"Finnair launches flights to the Tuscan sun Finnair will begin flights to sunny Tuscany on Friday 12 May. Flights will be operated directly from Helsinki to the heart of the area, Pisa International Airport on Airbus A320 aircraft. Tuscany is already Finnair's fourth scheduled destination in Italy. The other destinations are Rome, Milan and Venice in the summer season." More here....
read more.
---
My brother emailed and said he has a friend who's taking the train from Rome to Florence for the day. She was looking for suggestions about the best way to spend one day in Florence, where to go, where to eat, etc. Here's what I said: It's hard to give advice to someone I don't know because I don't know what type of traveller they are, but if it was me I would: 1) take the 5 minute walk from th...
read more.
---
Not exactly Florence, but as we scour the web for travel information we come across a lot of interesting sites. Here is the site for the Milan train station, or Milano Centrale. Flying into Milan is an option for people on their way to Florence - this site has a ton of information, in Italian and English....
read more.
---
We just came across a news article about staying in a convent as an inexpensive alternative to a hotel. The cat is out of the bag I guess. The Santa Susanna website has a page listing convents where you can get a room in several Italian cities, including Florence....
read more.
---
Last week was the closing to street traffic of the areas around the Duomo that weren't already "pedonale" or pedestrian only streets. Below are a few photos taken while standing in the intersection of Via de'Cerretani and Via de'Martelli. It feels really odd to be able to walk in the middle of these streets knowing how much traffic passed by every day. This week they also took down most of the sta...
read more.
---
If English is your mother tongue or what you read best make sure you pick up a copy of The Florentine when you are here. They publish every two weeks and have a great calendar that includes movie times and all kinds of art, music and cultural events both in Florence and greater Tuscany. They also do an interview in each issue with a an interesting Florentine, and have some original articles and a ...
read more.
---
New TV show, "Passport To Europe": "In Florence, Italy, Brown discovers a great hotel in the centre of the city, and also finds a perfect spot to escape the crowds."...
read more.
---
Here is the site for European maps and driving directions: http://www.viamichelin.co.uk Maps, driving directions, estimated fuel costs, toll costs, weather and traffic reports, etc. A really nice site with tons of useful information. If you register (free) you get more options, including restaurant listings....
read more.
---