Below are some of our most recent entries posted in the Travel Tips category - use the links at the end of the page to access all the articles individually.


ATAF is the local bus company in Florence - their ubiquitous orange buses (and some are now red too) are everywhere - some are big, some are small, some run on natural gas, and some run on electricity. From their website:
"ATAF, Azienda Trasporti Area Fiorentina, represents a consortium of nine municipalities: Bagno a Ripoli, Calenzano, Campi Bisenzio, Fiesole, Florence, Impruneta, Scandicci, Sesto Fiorentino, and Vaglia, that cover a total territorial surface area of 538 square km with a population of about 600,000 residents."
Continue reading
ATAF - Local Florence Bus Company
.
---
Updated on September 12, 2012: The Department of Tourism in Florence has a new bus and road map out to help people get in and out of Florence and the surrounding areas. Of course you have to get one at the tourist office, which sort of makes it a Catch-22 situation. Anyway - it has a ton of good info on it, like this little map below showing the locations of the bus stations near the train station:
Continue reading
Florence Bus Station map
.
---
This information was updated on March 2, 2014
New dates for visiting the Vasari Corridor have been announced - it is now scheduled to be open from February 7th to April 30th, 2014, but of course if you visit the official page tickets are not available!
There are currently two ways to see the Corridor - do it yourself as described here, most likely with an Italian speaking guide (except on Fridays as mentioned in the comments below), or booking with a tour company. The first option is cheaper - but will take some diligence in calling Italy, the second is more expensive, but much easier.
The official website of the "Corridoio Vasariano" is here: http://www.uffizi.firenze.it/en/musei/index.php?m=vasariano.
If you want to try to make a reservation, call immediately - the Italian country code is 39, and the number to call is 055 294883. The best part - tickets are only €10.50 plus a €4 reservation fee.
Since we are Friends of the Uffizi (I will post about this soon) our entrance is actually free, and we will only have to pay the 4 euro reservation fee on the day we visit. Good luck!
Alternatively, if the tour sells out, or you can not get through, there is a tour company (one of many actually) selling guided tours in English. This is a more expensive option, but it may be your last and best chance to see the corridor for years if it closes for renovations (as planned - but not done yet for a lack of funding).
---
There are some new traffic lights up that let you know when it is okay to drive into the ZTL. The pictures below are from the entrance in front of the Biblioteca Nazionale (I am not how many ZTL entrances have these lights installed). The current mayor of Florence, Matteo Renzi, has announced new plans to make the whole ZTL situation simpler and more friendly to tourism. We'll see how that goes - for now the signs are a decent start.
Here is the location of the above sign:
---
Last week was the closing to street traffic of the areas around the Duomo that weren't already "pedonale" or pedestrian only streets. Below are a few photos taken while standing in the intersection of Via de'Cerretani and Via de'Martelli. It feels really odd to be able to walk in the middle of these streets knowing how much traffic passed by every day. This week they also took down most of the stanchions and chains that were in the area to control the flow of traffic and keep people from getting run over! I still think that some of this whole thing was just a pro-active PR attempt by the mayor to gain some easy goodwill before the tram construction starts - this is the exact route that the tracks are supposed to come down from the station on the way to Piazza San Marco.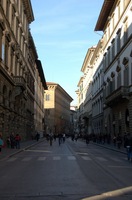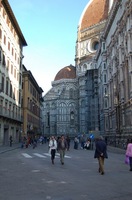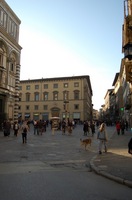 ---
Florence Santa Maria Novella (Firenze SMN is how you will see it on train schedules) is Florence's main train station. The station handles more than 400 trains and a 160,000 people a day! Many bus stations (SITA, CAP for Prato and west of Florence) are nearby and there are also ATAF (local Florence line - usually orange) buses to be caught on either side of the station. A lot of car rental agents are just a few blocks away, many on Via Ognissanti. There is a car park underneath the station as well, and there is a taxi stand outside the station with an endless supply of white cabs.
You can find a list of information and usual services available (pharmacy, food, post, luggage, etc.) at the station here, and you can purchase tickets (or at least plan your itinerary) on the main Ferrovie website (there are reports that you can not buy tickets on this site without an Italian credit card).
From Firenze SMN you are about an hour and 40 minutes to Rome, 2 hours and change to Milan, less than 3 hours to Venice (on most trains), and 3 to 5 hours to Naples.
Continue reading
Florence Santa Maria Novella Train Station
.
---
Inside the old city walls of Florence (well, what used to be the walls and is now the viale or large avenue circling the city), driving is limited to registered vehicles (city residents) except for a small area around the train station (Santa Maria Novella). Florentines call this the ZTL, or "Zona Traffico Limitato". It is important to know this to avoid receiving HUGE traffic tickets by driving your car into the center of Florence. On the map below (click it for a larger version), you can see the ZTL entry points (red and blue "T"s) and the various zones by letter (which correspond to where residents can park). You can drive into the center with a rental car if you are staying at a hotel, but the hotel must let the traffic police know your license plates, etc. And if you do drive in, make sure to use one of the blue "T" spots, not the red - even with a residents permit to enter, you can't enter at the red "T" signs (I now know - it was an expensive lesson).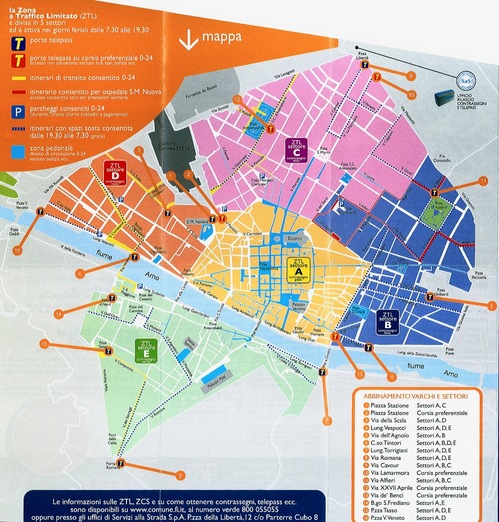 So remember - if you are just coming to Florence as stop on a day trip, or you are staying at a self catering apartment (i.e. not a hotel), you can not legally drive into (most of) the center, although personally we have heard stories of people doing so and not getting tickets, if you do the fines are steep and they are getting better and better at finding you and making sure you pay. In any case, this is something to be aware of and be careful of! Study the map closely and you will see there are a few ins and outs (Sundays are open, as are nights from 7:30 PM to 7:30 AM, but not in the summer, etc.). Lastly, the light blue shaded streets are "zona pedonale" or pedestrian zones, and you shouldn't be driving on them at all!
---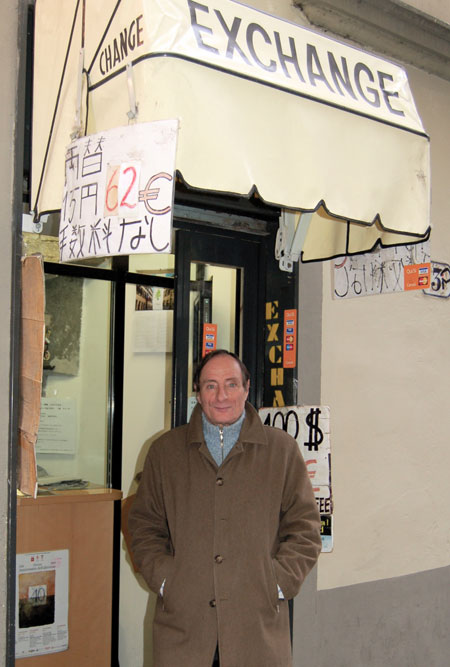 The best place to exchange - change money (cash) in Florence is with Carlo (or his son Marco) in their tiny shop (actually just a window you walk up to) the size of a closet that is tucked into the side of the Uffizi. They have been changing money in this spot for 40 years, and have the best rates (really!) in town. Carlo is a real Florentine and a great guy - he speaks Italian, English and Japanese - and will always take the time to share an anecdote or two. They are always just 2 or 3 pennies off the published exchange rates, with no extras, no commission added, etc., while many other exchange shops have a spread of 5 or 7 cents - and tack on a commission fee. Cash and travelers checks welcome - he will also let you charge cash on your credit card (they do take 5% on this type of transaction - but it can be really handy). He is open early to at least 7:00 PM, every day. On Via della Ninna (little street on the south side of the Palazzo Vecchio that leads to Via dei Neri if you care coming from Piazza Signoria). Follow the link below for a map.
Continue reading
Changing Money In Florence
.
---
"These pickpockets are very, very skilled," said Michael Ma, a consul at the U.S. Consulate in Florence, Italy. They offer to hoist your bag on the train and then take off with the bag, just as the train is pulling out. They ask you to help with their baby and then, while you're preoccupied with the child, quickly grab your bag (even snipping the shoulder strap with scissors). They sidle up to you in a crowd and reach in to an open purse. They will even snatch your purse from your restaurant chair while you're sitting there talking. "They take what they can without getting caught and move on," says Ma, who gives talks on the subject to some of the 10,000 American students who study in Florence every year."
There is more here.
---
Yesterday afternoon the sun finally decided to show itself a bit in Florence for the first time in what seemed like weeks and it is out again this morning. Hopefully spring is finally here - the forecast for the rest of this week looks drier but clouds will still be around for most of it - high temperatures will be around 68 degrees.
Whales surface in Tuscany - there is a report in The Guardian today of completely intact whale fossils (2) being found in Tuscany. Eventually they are due to be on display at Florence's natural history museum. Interesting news and we will check out the exhibit once it opens.
Florence is absolutely packed with tourists - even walking down most streets in the center is a challenge, riding a bike is even harder. Last year living on Piazza Santa Croce I don't remember the city feeling this busy. Maybe there will be some slack after Easter - we'll see!
---