Home
/ Markets
Markets
Florence has many famous markets besides the Mercato Centrale, the main food market of the city located in the San Lorenzo area. There are other food markets, craft markets, a weekly flower market, as well as other seasonal and special event markets in several piazzas across the city. In this section of the website we list most of the permanent ones as well as those that occur only once a week or month.
Florence's bustling Central Market (better known in Florence as the "Mercato Centrale") is a fascinating place to visit, especially for foodies. Located in a towering cast-iron building dating from 1874, its entrances are often obscured by the stalls of the San Lorenzo market that line the streets outside (the San Lorenzo stalls feature crafts, leather, clothing, shoes, souvenirs, etc.). Insid...
read more.
---
There was a food market set up in Piazza Santa Croce this weekend. Not sure of the exact theme - you can see the banner they had flying below in the pics. All kinds of great stuff, including truffles - we bought a small, wild, white truffle from the guy in the photo below and I made a risotto with it (well I made the risotto with some truffle cheese we also bought from him and shaved the white tru...
read more.
---
These two events are now joined and usually take place on the second Sunday of each month. To stay up to date, visit their website here. The "Fierucola" is the traditional event dedicated to nature and organic farming, and the "Lungoungiorno" is an event sponsored by the Foundation of Florence for the Arts and Crafts and entirely dedicated to high quality crafts. Together now it is a great day...
read more.
---
The Mercatale di Firenze will be held in Piazza Santa Maria Novella on the first Saturday of the month, starting on April 5th, 2014. This market (if I am reading the Italian correctly) is the one that used to take place in both Piazza Repubblica and Piazza Santa Croce once or twice a month (sometimes there would be extra dates around holidays, etc.). There is no market day in August (of course!) b...
read more.
---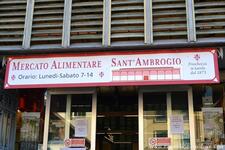 Florence's "second" market (after the famous Mercato Centrale), the Mercato Alimentare Sant'Ambrogio, offers fresh food, household goods, some clothing, and restaurants from 7 a.m. to 2 p.m. every day except Sunday. Saturday mornings are especially busy - and some fruit, vegetable, and specialty vendors only come on Fridays and Saturdays. Outside the market Outside on the long west side of the ...
read more.
---
---
There is a fantastic organic food (and more - like wine, textiles, and hand made arts and crafts) market on the third Sunday of every month in Piazza Santo Spirito. Market Tips The market takes place on the third Sunday of each month The market is open from 9 a.m. to 7 p.m. Arrive early if you want to avoid crowds Bring euros, as many vendors may not accept credit cardsOfficially this market is...
read more.
---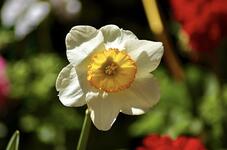 If you find yourself in Florence centro on a Thursday morning, you may notice the beautiful flowers all the Florentines are carrying home to their palazzi. They've already been to the Thursday Flower Market - the place to go for fresh cut flowers for your table, geraniums for your windowbox, rosemary for your kitchen sill, or potted olive and citrus trees for your city garden or courtyard. Flow...
read more.
---