Below are some of our most recent entries posted in the Markets category - use the links at the end of the page to access all the articles individually.

The Mercatale di Firenze will be held in Piazza Santa Maria Novella on the first Saturday of the month, starting on April 5th, 2014. This market (if I am reading the Italian correctly) is the one that used to take place in both Piazza Repubblica and Piazza Santa Croce once or twice a month (sometimes there would be extra dates around holidays, etc.). There is no market day in August (of course!) but supposedly it will start up again in September and take place all year long.
Continue reading
Mercatale di Firenze
.
---
These two events are now joined and usually take place on the second Sunday of each month. To stay up to date, visit their website here.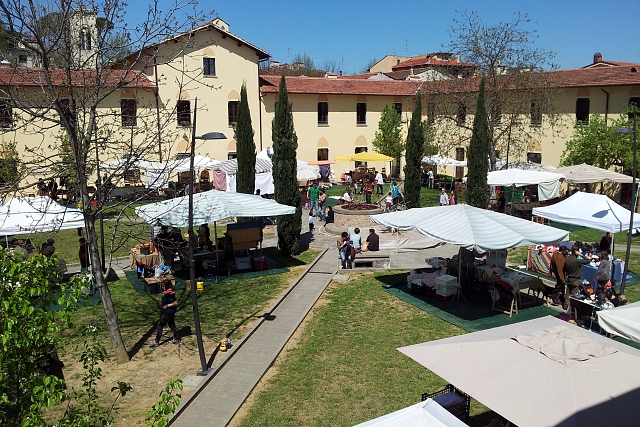 The "Fierucola" is the traditional event dedicated to nature and organic farming, and the "Lungoungiorno" is an event sponsored by the Foundation of Florence for the Arts and Crafts and entirely dedicated to high quality crafts. Together now it is a great day of art, crafts, food, tours and events.
"Lungoungiorno + Fierucola" takes place at the Vecchio Conventino Space for Arts and Crafts (SAM), on the second Sunday of each month.
Locals and tourists can spend the whole day with the artisans, their art, and the amazing local food. Lungoungiorno + Fierucola is an opportunity to watch artisans at work, hear their stories, and get closer to their crafts and their workshops.
---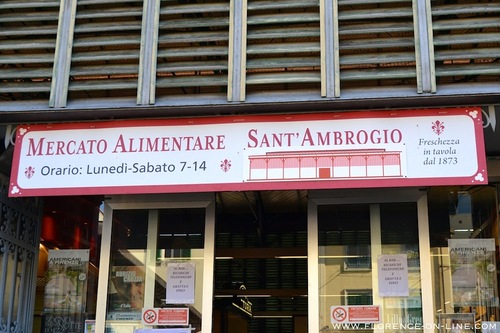 Florence's "second" market (after the famous Mercato Centrale), the Mercato Alimentare Sant'Ambrogio offers fresh food and other goods, from around 7:00 AM to 2:00 PM every day except Sunday. Saturday mornings especially are very busy - and some vendors only come on Fridays and Saturdays. In recent years there was some experimentation of longer afternoon hours (to give people who work a chance to make it to the market) one or two days a week but I am not sure if that is still the case.
Continue reading
Mercato di Sant'Ambrogio
.
---
There is a fantastic organic food (and more - like wine, textiles, and hand made arts and crafts) market on the third Sunday of every month in Piazza Santo Spirito. These photos are from the Sunday before Christmas, 2011.
---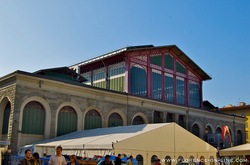 Florence's bustling Central Market (better known in Florence as the "Mercato Centrale") is a fascinating place to visit, especially for foodies. Located in a towering cast-iron building dating from 1874, its entrances are often obscured by the stalls of the San Lorenzo market that line the streets outside (the San Lorenzo stalls feature crafts, leather, clothing, shoes, souvenirs, etc.).
Inside the market are myriad vendors dedicated to the primary ingredients of Tuscan cuisine. On the ground floor you will find butchers of all types, with everything from pig's feet to whole chickens with their heads and feet still on, to giant, milky-white sheets of tripe, rabbits, wild boar, steaks, sausages, etc. You will also find gastronomie offering cheeses, cured meats, olives and other delicatessen fare, as well as stalls selling bread, pasta, wine and other grocery items.
In the northern corner (the market sits on angle which you will notice when looking on a map) you will find the seafood area, with several vendors featuring fish and shell fish of all kinds - some of it wild caught in Italy and some imported from the rest of the world.
For those who are peckish, the market is a great place to buy picnic supplies - some stalls will even make sandwiches to order. A local Florentine favorite place to eat (and one of ours too) is Nerbone, located inside the Central Market and founded in 1872, it is a walk-up eatery (cafeteria style) with a bank of marble-topped tables that is positively swamped at lunchtime and offers cucina povera and other Tuscan dishes. Their specialty is panino con bollito, a boiled beef sandwich where the bread is dipped in the cooking broth, and topped with salsa verde and salsa piccante (if you can take the heat!). You will find Nerbone in the southern corner of the market.
The Central Market is open Monday through Saturday from 7 a.m. to 2 p.m., with additional Saturday hours from 4 p.m. to 7 p.m.
* The 2nd floor or "Primo Piano" of the market is now open again (since 2014) as a food and wine destination with restaurants, a cooking school, etc. We'll have more about this soon!
---
There was a food market set up in Piazza Santa Croce this weekend. Not sure of the exact theme - you can see the banner they had flying below in the pics. All kinds of great stuff, including truffles - we bought a small, wild, white truffle from the guy in the photo below and I made a risotto with it (well I made the risotto with some truffle cheese we also bought from him and shaved the white truffle on top of that). Heavenly paired with this fantastic wine. More on the truffles here: Villa Magna.
We also bought a bottle of Nocino, which is a liquer made from green walnuts. Technically it is a digestif - to be had after a meal. I was introduced to it by some friends last New Year's Eve, they served their home made version, which was fantastic. The bottle we bought seems pretty close. The producer is Poggio alle Lame.
There is always something going in Piazza Santa Croce...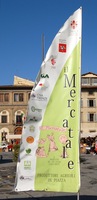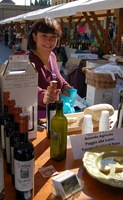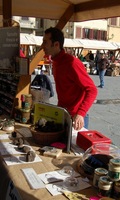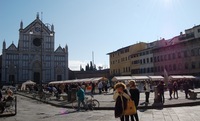 ---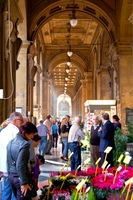 If you find yourself in Florence centro on a Thursday morning, you may notice the beautiful flowers all the Florentines are carrying home to their palazzi. They've already been to the Thursday Flower Market - the place to go for fresh cut flowers for your table, geraniums for your windowbox, rosemary for your kitchen sill or potted olive trees for your city garden.
The selection is extensive and includes everything from herbs and flowers to palms and cactus. We also purchase our Christmas tree there each year. Even if you aren't looking to buy a "mazzo" (bunch or bouquet) of flowers, this market is worth a browse for it's shear beauty.
The flower market is located on Via Pellicceria, starting on the southwest corner of Piazza Repubblica and running south under the arcade and past the post office. The market starts early and all the cut flowers are pretty much sold out by lunch. By mid-afternoon all the vendors are packing up to head back to their farms, so go early. Open all year round.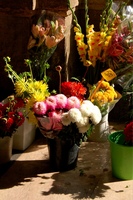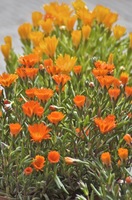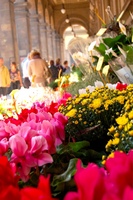 ---