Home
/ Palazzi
Palazzi
Palazzo Corsini is a late baroque building, obvious throughout its many architectural details - from the roofs decorated with statues copied from antiquity and terra cotta vases, the ornate rooms and interior grotto, and the main, U-shaped courtyard that opens towards the lungarno and north bank of the Arno. The two men responsible for Palazzo Corsini were Bartolomeo Corsini (1622-1685), the so...
read more.
---
Located near the San Lorenzo Market, the Palazzo Medici is one of the finest and most famous palazzos of Florence. It was built in the fifteenth century on the commission of the Medici family by Michelozzo di Bartolomeo Michelozzi, a disciple of Ghiberti and collaborator of Donatello. The palazzo is a prototype of Renaissance civil architecture and effectively represents the power and influence of...
read more.
---
Current scholarship agrees that the Palazzo Rucellai was designed by the famous artist, architect, and humanist Leon Battista Alberti, but built by Bernardo Rossellino in the mid-fiftheenth century. It is notable for being one of the first palazzos to express humanism in Renaissance residential architecture. This new style is evidenced by an elegant design that sets the building apart from the mor...
read more.
---
Palazzo Strozzi was begun in 1489 by Benedetto da Maiano for Filippo Strozzi, a rival of the Medici who desired to have the most magnificent palace in the city. Filippo Strozzi was left in ruins by the cost of the project and died in 1491. The palazzo was eventually finished in 1538 by Il Cronaca (Simone del Pollaiuolo). Today the Strozzi houses 2 separate exhibition spaces (the main space, an...
read more.
---
One of the swankest new places to stay in Florence: "Scheduled to open in early 2008, Palazzo Tornabuoni (866-753-6667), a stunning renovated 15th-century Florentine palace being divided into apartments, is offering fractional shares from around $230,000."...
read more.
---
---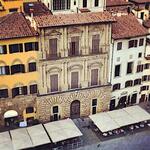 Palazzo Uguccioni was built for Giovanni Uguccioni starting around 1549 by Mariotto di Zanobi Folfi. The original architecture of classical forms has affinities with the Roman late Renaissance style which has caused speculation that the design was by Raphael or Michelangelo (or a host of other famous Florentine artists and architects). The decorative effect of the facade places it in relation to...
read more.
---