Home
/
Churches & Cathedrals
/ Ognissanti
Ognissanti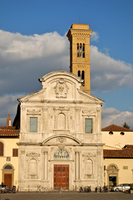 The Church of Ognissanti (All-Saints Church) is a Franciscan church founded by the lay order of the Umiliati, a Benedictine order particularly skilled in manufacturing wool.
It was completed during the 1250s, but almost completely rebuilt on the Baroque designs of Bartolomeo Pettirossi, in 1627. Ognissanti was among the first examples of Baroque architecture to be built in Florence.
The Umiliati developed a strong positive relationship with the Florentine people. Many works of art, dedicated by various Florentines, began to accumulate in their once very simple church. Giotto's celebrated Madonna and Child with angels, now in the Uffizi, was painted for the high altar in 1310. During the 16th century, the Franciscan order assumed control of the church in 1571 from the Umiliati and brought works of their own, including precious relics such as the robe Saint Francis of Assisi wore.
Famous works inside the church include quattrocento frescoes in the nave chapels, by Ghirlandaio and Botticelli (who is buried in the church) and Madonna della Misericordia, also by Ghirlandaio. Perhaps the greatest of Ognissanti's frescoes is Ghirlandaio's Last Supper in the refectory between the two cloisters, a work with which Leonardo was intimately familiar. Over the door to the sacristy is a crucifix in wood by Veit Stoss.

Last update:
comments powered by

Disqus