Home
/
Churches & Cathedrals
/ San Lorenzo
San Lorenzo
There has been a church on the site of San Lorenzo since 393, making it one of the oldest churches in Florence. The church as it appears now, however, is the result of a renovation begun in 1421 by Giovanni di Bicci de'Medici, who commissioned a new design for the church from Filippo Brunelleschi. This began a relationship between the Medici family and San Lorenzo that lasted for more than a century. The family lavished money on the church with a variety of projects, including the Medici Chapel.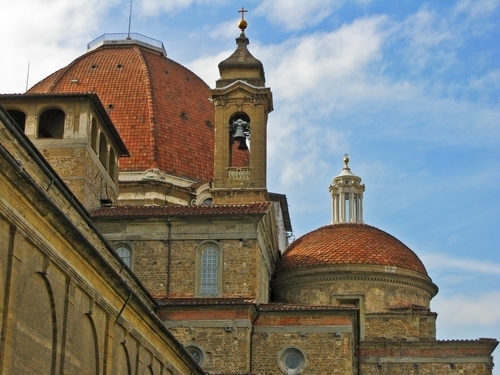 Despite its unfinished facade, the interior of San Lorenzo is a masterpiece of Renaissance rationality and moderation. An essay in gray and white, its pietra serena columns and archways contrast with the lightness of the walls and windows, making the architecture of the church extremely legible. The entire church is suffused by an even and harmonious light adding to the sense of elegance and simplicity.
To the left of the central apse you can enter the Old Sacristy (Sagrestia Vecchia), also designed by Brunelleschi and finished in 1428. This cubic room topped with a hemispherical dome is a wonderful example of early Renaissance preoccupation with proportion and geometry. The cohesive sculptural decoration in the room was for the most part executed by Donatello, including the red and blue frieze of putti and the polychrome stucco roundels depicting the Four Evangelists. In the center of the room, beneath a marble table, is the tomb of Giovanni di Bicci and his wife Piccarda Bueri, while the remains of Cosimo il Vecchio's children, Giovanni and Piero are housed in a porphyry and bronze sarcophagus set into the wall.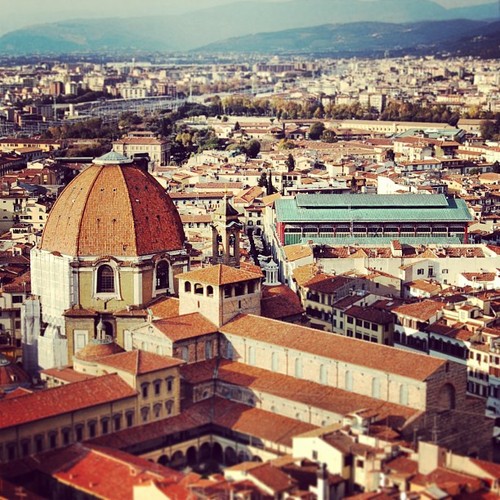 San Lorenzo houses several treasures of Renaissance painting and sculpture. Donatello's last works, two bronze pulpits from around 1460, are located on either side of the central crossing of the church. A wonderful Annunciation by Filippo Lippi is tucked away in the Martelli Chapel, located to the right of the Old Sacristy. The Martelli chapel also houses a sarcophagus by Donatello and a nineteenth-century monument marking the sculptor's burial place. Other significant paintings include Rosso Fiorentino's 1523 Marriage of the Virgin and Bronzino's Martyrdom of St. Lawrence of 1565-69.
Admission charge for tourists to enter the church is €2.50. Detailed brochures in several languages are provided inside the entrance and free guided tours are also available. Visiting hours are from 10 a.m. until 5:30 p.m., closed on Sundays and holy days (ticket office closes at 5:00 p.m.). Photography inside the church is not allowed.

Last update:
comments powered by

Disqus