Home
/
Churches & Cathedrals
/ Santa Felicita
Santa Felicita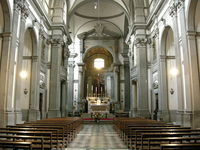 Santa Felicita is the second oldest church in Florence after the church of San Lorenzo. Originally built around the late 4th and early 5th century, the church was dedicated to St. Felicity, a Roman widow believed to have been put to death in the year 165, along with her seven sons. A new church was built on the original site in the 11th century and the present church was erected in 1736-39 by Ferdinando Ruggieri along elegant late-baroque lines.
The church contains famous works of art by Pontormo, considered among the masterpieces of 16th century Florentine painting. The chapel was originally designed by Filippo Brunelleschi but was altered in the 18th century when the cupola was lowered and some of its frescoes were destroyed.
Admission to the church is free. It is open to tourists on weekdays from 9:30-12 and from 15:30-17:30.

Last update:
comments powered by

Disqus