Home
/
Events
/ Florentine New Year
Florentine New Year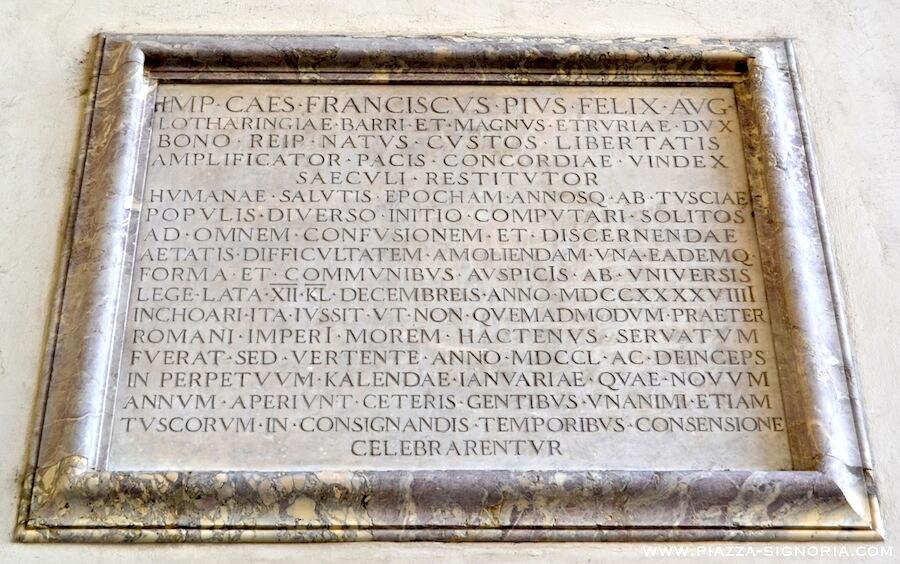 Up until 1750 Florence began the civic year not in accordance with the modern solar calendar on January 1st, but on March 25th, marking the start of the year from the religious feast of the Incarnation (which also - surely not by coincidence - is near the first day of spring).
There is a plaque (above) in the Loggia dei Lanzi commemorating the event:
"Emperor Francis, Pious, Fortunate, Augustus Duke of Lorraine, Bar, and Grand Duke of Tuscany Guardian of the good state's liberty Promoter of peace, defender of harmony Restorer of the age The epoch of human salvation and the years from the Tuscans The people used to reckon by different beginnings To every confusion and distinguishing The difficulty of the age is to be removed in one and the same form Form, and under common auspices by all By law passed on the 12th day before the December Kalends, in the year 1749 He ordered it to be begun in such a way that not only as before According to the custom of the Roman Empire hitherto observed But with the turning of the year 1750 and thereafter Forever, the Kalends of January would open a new year For all nations unanimously, and also With the consent of the Tuscans in marking the times It would be celebrated."
In Florence and in the surrounding lands belonging to Florence the New Year was celebrated with a difference in reckoning of two months and twenty-five days, even when in numerous Italian and foreign states the modern calendar had been operating since 1582! The Florentines did not change the calendar until 1749, when respect of the new temporal calculations was imposed by a decree of the Grand Duke Francesco II of Lorraine dated November 20 of the same year.
Historically on this day in Florence - the "Spring New Year" - a great crowd would set off in pilgrimage to the basilica of Santissima Annunziata, founded by the Servites, to venerate the miraculous fresco of the Annunciation (below) in which the face of the Virgin (according to an ancient legend) was said to have been executed by the hand of angels when the artist fell asleep in front of it. This flocking of the people to the basilica gave rise to the "Fair" which is still set up in the piazza in front
of the church on March 25th every year.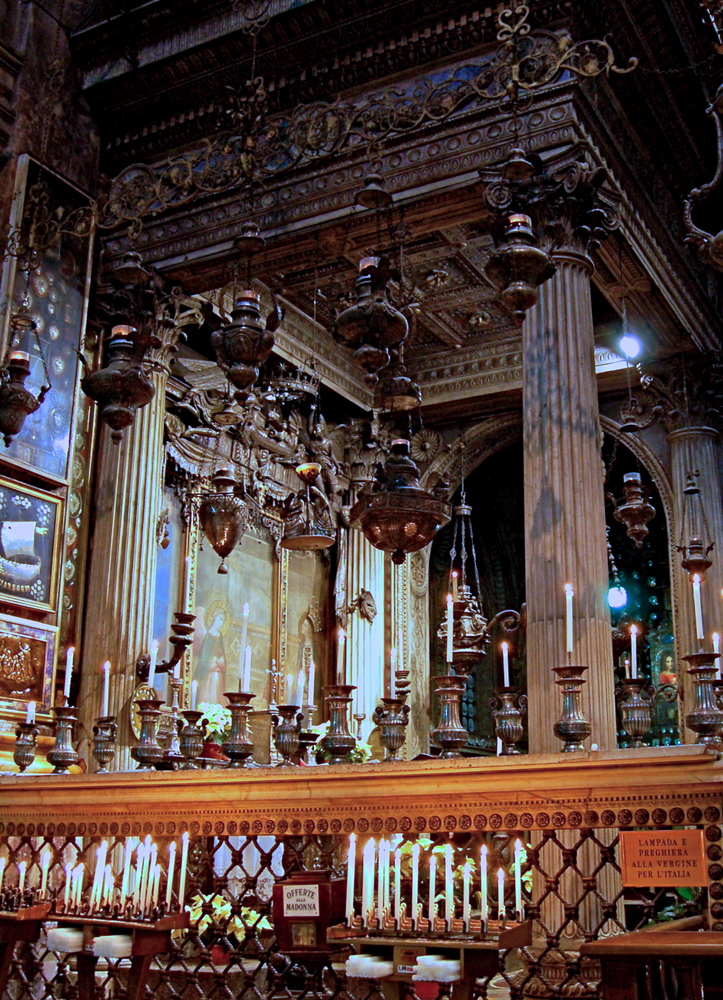 Last update:
comments powered by

Disqus