Home
/
Events
/ Mille Miglia
Mille Miglia
The official website of the 2015 Mille Miglia
The Mille Miglia or the "thousand miles" has been called the "most beautiful race in the world". Initiated in 1927, the race was canceled for reasons of safety in 1957 and twenty years later was revived as a road rally.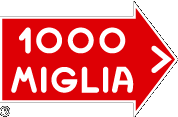 Every May over the course of three days, more than three hundred of the most important vintage racing cars (and some contemporary models) from around the world parade through over 1,000 miles (1,600 km) of Italian roads highlighting countrysides, mountains, ancient villages and city centers including Piazza del Campo in Siena and Piazza Signoria in Florence. Starting in Brescia, Lombardia they travel to Rome and back, winding through the countrysides of the Veneto, Marche and Umbria regions and returning through Tuscany, including Siena and Florence where they pause for a mid-afternoon break. The collection includes pre-1957 models of classic cars from Ferrari, Maserati, Porsche and Alfa Romeo, among others.
The first car passes through Florence in the early afternoon and makes a tour through the center - in 2012 the race is scheduled to cross the Ponte alle Grazie, Lungarno degli Acciaioli and Piazza della Signoria (the exact time and route is subject to change from year to year).
Here are some of our favorite photos from the last couple of years:

Last update:
comments powered by

Disqus