Home
/
Food & Drink
/
Santa Croce
/ La Giostra Ristorante
La Giostra Ristorante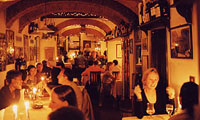 La Giostra is a busy restaurant on Borgo Pinti, well known in tourist circles but a bit ignored by Florentines (but then again what restaurant in the center isn't). We ate there recently, following are my impressions.
The crowd is a healthy mix of tourists and Italians, and the meal overall was fantastic. The room is a little tight (not uncommon in Florence) and got a little noisy from a fine dining standpoint, but there is a lot of "atmosphere" and the owner is an entertaining character who puts on quite a show, especially decanting your wine. He also took a minute to admonish the staff for some minor transgression that I caught some of - actually one of the oddest observations we had was the way the staff was dressed - completely haphazardly, with one of the waiters in a nearly sleeveless t-shirt, tatoos exposed, and plenty of other piercings and tattoos on display - if you are looking for uniformed service, I would have to say this isn't the place.
We had a very good Tuscan red wine with the meal, a Bruno Di Rocca IGT (I didn't take notes so can't say much more beyond the fact that we all liked it a lot!). The complimentary plate of Tuscan appetizers was amazing and varied, with crostini, mozzarella, goat cheese and vegetable treats of many different types. I really enjoyed my plate of swordfish carpaccio (fresh fish, not smoked) that came on a bed of greens with razor thin slices of tomato. For my secondo I had coniglio al forno, which was fantastic - one of the best things I have had in Florence. Overall a very enjoyable dining experience. I look forward to going back.
LOCATION: Borgo Pinti 10r, Firenze
TELEPHONE:(39) 055 24 13 41
EMAIL: [email protected]

Last update:
comments powered by

Disqus