The Ponte Vecchio, literally "the old bridge," is just that - the oldest bridge of Florence, a masterpiece of medieval architecture and probably one of the most recognized and photographed bridges in the world. A bridge on this site was first mentioned in 996 although there was probably one here since Roman times, and there are records of bridges in this location collapsing in 1117 and 1333. The current structure was erected in 1345 and has been attributed variously to Neri di Fioravante or, if Vasari is to be believed, to Taddeo Gaddi.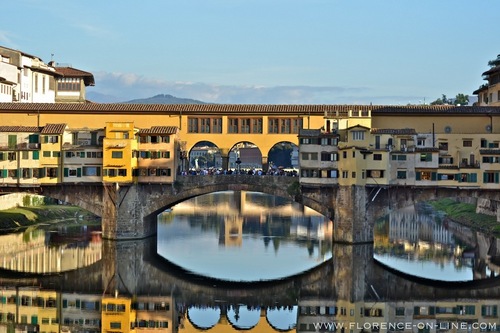 The Ponte Vecchio is the only bridge in Florence to have survived WWII intact. While all the others were destroyed by the retreating German army in 1944, the Ponte Vecchio was preserved in view of its historical significance with most of the credit going to the German consul of occupied Florence, Gerhard Wolf (instead, the buildings at either end were purposefully bombed by the Germans in order to impede Allied troops from crossing the Arno). There is a plaque honoring Wolf in the arcaded side of the center of the bridge: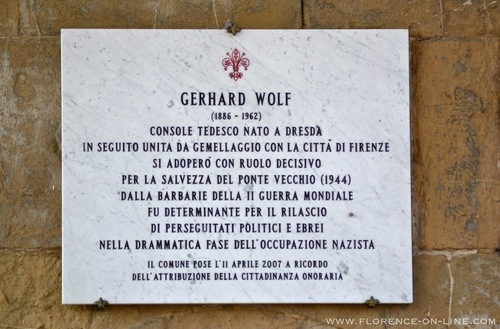 Originally, the bridge was lined with the stalls of tanners, wool makers, butchers and greengrocers, who were able to dispose of the byproducts of their trade by conveniently dumping them in the river below. In 1593, Ferdinand I, finding the squalor engendered by these professions out of keeping with the thoroughfare connecting the two main grand-ducal palaces, had them replaced with goldsmiths and jewelers. The bridge as you see it now is still lined with shops selling high quality gold and jewelry, as well as a few selling upscale gloves, neckties and scarves. Many of the stores have been here for generations, and are almost like jewels themselves, each tiny store having a giant picture window with a gorgeous view of the Arno from the inside, and intricate wooden enclosures on the outside.
Aside from these more glittering attributes, the Ponte Vecchio boasts other points of interest. Above the stores on the left side of the bridge facing away from the city is the Corridoio Vasariano, or Vasari Corridor, part of the covered passageway built by Vasari in 1565 to connect the Palazzo Vecchio and the Pitti Palace. At the center of the bridge there is a short break in the line of shops, giving pedestrians a view in either direction of the Arno. Here you will find the nineteenth-century bust of the famous renaissance goldsmith Benvenuto Cellini, erected on the 400th anniversary of his birth.