Home
/
Museums
/ Bardini Museum
Bardini Museum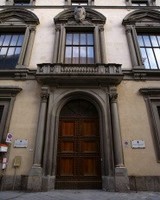 Stefano Bardini, an art dealer known for his flair for Renaissance art and his love of blue painted walls, donated his life's labor and the building he housed it all in to the city of Florence in 1922.
The museum houses some of the most unique Renaissance art in Europe. Highlights of the collection include Roman sarcophagi, delicate wooden sculptures, and works attributed to Donatello and Pisano. Newer acquisitions now grace the halls as well as many others thought to be from between the 12th and 15th centuries. All are presented in a unique setting where columns, altars, and even stairs from original Romanesque and Renaissance-era buildings lend the museum's spaces an authentic, ethereal feel.
The museum is open from Saturday to Monday from 11-17.
Bardini Museum
Via dei Renai, 37 (Ponte alle Grazie)
Florence, Italy 5100
+39 055 2342427
www.rinascimentomoderno.it/museobardini

Last update:
comments powered by

Disqus