Home
/
Museums
/ Casa Martelli Museum
Casa Martelli Museum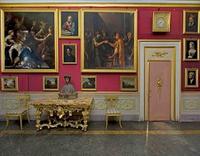 The Museum Casa Martelli is an interesting example of an 18th-century nobleman's home and of the family's tastes in collecting.
In 1738 Niccolò and Giuseppe Maria Martelli employed the architect Bernardo Ciurini to transform several houses into the present palace. The interior was decorated in the taste of the period with paintings by Vincenzo Meucci, Bernardo Minozzi and Niccolò Conestabile, and stucco ornamentation by Giovan Martino Portogalli. The fine collection of art works belonging to the family was arranged in a specially designed suite of rooms. This is the last example of an 18th-century Florentine collection, with the exception of the Corsini collection, that has been preserved intact.
The paintings include works by Piero di Cosimo, Beccafumi, Salvator Rosa, Luca Giordano and Netherlandish painting of the 17th century.
The Museum is open for guided tours on Thursday afternoons and Saturday mornings only, and you must have a reservation (€3 - but the "ticket" is free), made by calling 055 294883. You can not walk up and enter without a prior reservation. Via Zannetti is a small side street less than five minutes from the Duomo area.
Casa Martelli Museum
Via Ferdinando Zannetti, 8
50123 Florence, Italy
+39 055 294883
www.polomuseale.firenze.it/english/musei/casamartelli

Last update:
comments powered by

Disqus