Home
/
Museums
/ Horne Museum
Horne Museum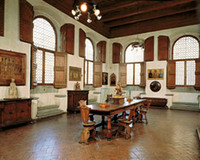 The Horne Museum takes its name from the English collector Herbert P. Horne (1864-1916) who left his palace and his collections of a lifetime to the Italian State.
This palace had belonged to the Albertis and then the Corsis who gave it its present appearance at the end of the fifteenth century. With its balanced and elegant exterior and its restrained courtyard.
The museum reflects its owner's taste in layout; Horne was a man of letters, an architect and a critic of some standing who came to Florence at the end of the last century to study the Italian Renaissance. He particularly favored works of art, furniture, ornamental and useful household objects, the contents in fact of the type of Florentine home which he wished to recreate for himself. The result was a large and rich collection, which has been recently rearranged after the damage of the flood of 1966 and which preserves the character of an inhabited home. The most precious piece is the painting representing "St. Stephen" by Giotto. The sculptures include works by Desiderio da Settignano, Giambologna and the "Angels in Glory" by Bernini.
The museum is open from 9-13 from Monday to Saturday.
Horne Museum
via dei Benci, 6
Florence, Italy 50122
+39 055244661
www.museohorne.it
[email protected]

Last update:
comments powered by

Disqus