Home
/
Museums
/ Museum Opificio delle Pietre Dure
Museum Opificio delle Pietre Dure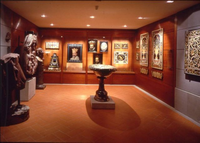 The Opificio delle Pietre Dure literally translates to mean Workshop of Semi-precious Stones. It is a public institute of the Italian Ministry for Cultural Heritage based in Florence which is a global leader in the field of art restoration and provides teaching as one of two Italian state conservation schools.
The museum is contained within the workshop. It displays examples of Pietre Dure works, including cabinets, table tops and plates, showing an immense repertoire of decoration, usually either flowers, fruits and animals, but also sometimes other picturesque scenes, including a famous view of the Piazza della Signoria. There is also a large baroque fireplace entirely covered in malachite as well as copies of paintings executed in inlaid stone. An exhibition of the technical processes of Pietre Dure works through history, can be found on the first floor as well as a large range of finished works dating back to the time of the Medici. There are also vases and furnishings decorated with Art Nouveau designs of the late 19th and early 20th century.
The museum is open from Monday to Saturday from 8.15-14.00 and from Thursday from 8.15-19.00.
Museo dell'Opificio delle Pietre Dure
Via degli Alfani, 78
Florence, Italy
+39 055 265111
www.firenzemusei.it/00_english/opificio

Last update:
comments powered by

Disqus