Home
/
Piazzas
/ Piazza dell'Indipendenza
Piazza dell'Indipendenza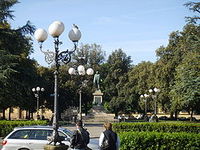 Piazza dell'Indipendenza is a large square in the heart of Florence's historical center. The square was built in the nineteenth century in order to celebrate the April 27, 1859 uprising that led to the abdication of Grand Duke Leopold II of Tuscany. The uprising was organized by patriots fighting for Italian unification.
The buildings facing the square were all constructed between the 19th and early 20th century.
Two bronze statues, which are decorated by panes that are symmetrical to the north and south, were built in the late nineteenth century. The first statue depicts Bettino Ricasoli, an Italian statesman and fighter for Italian unification, and is the work of Augustus Rivalta. The second statue is of Ubaldino Peruzzi, the first mayor of Florence, and was created by the Florentine sculptor Raffaello Romanelli.
Plaques on the buildings surround the square commemorate writers who lived on the square while writing some of their works, including Guido Nobili and Theodosia Gorrow Trollope (an English ex-pat).
The square is a lovely place to relax and rest after a long stroll. The square is dotted with cafes and restaurants, and the many shops on Via Nazionale are nearby. For a nice coffee or brunch, check out CafਠDeluxeà¨, on the corner of the square, which also offers wi-fi and live music.

Last update:
comments powered by

Disqus