Below are some of our most recent entries posted in the Oltrarno / Santo Spirito category - use the links at the end of the page to access all the articles individually.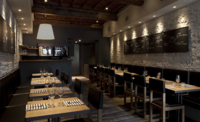 A newer and welcome restaurant in San Frediano, iO Osteria Personale offers an upscale and unique menu, with new twists on classic dishes - like carpaccio di manzo with pecorino gelato, tartare of Ricciola on a bed of ricotta topped with spinach, and an amazing chocolate soufflà© topped with dollop of olive oil and a pinch of salt, accompanied by basil gelato with a tomato based sauce. It is all extremely well done in a minimal but comfortable and quiet room, with attentive service and a very nice wine list. Their 4 or 5 course tasting menus are a perfect introduction to a unique restaurant you will no doubt want to return to every time you are in Florence.
LOCATION: Borgo San Frediano 167r, Firenze
TELEPHONE: 055 9331341
EMAIL: [email protected]
---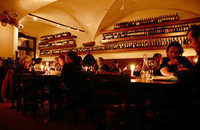 Il Santo Bevitore is not just a trendy restaurant - it is a very good one - with ample reason. The food is excellent, the prices are very reasonable for the center of Florence, the wine list is solid and fair, and the service is professional. Reservations are always recommended, as it can be full even on weeknights. We have had both lunch and dinner here on several occasions, and I can't think of a complaint. The atmosphere is friendly and casual and there are a couple of rooms, one closer to the bar, and a smaller one that is a bit more quiet.
As to the highlights, please see the photos below (taken in May of 2011). To me one of the most attractive aspects of Il Santo Bevitore is that the fare is not just traditional Tuscan. It is inventive and also features a lot of seafood, like raw Branzino and crispy grilled octopus. Also below the starters of purple cabbage soup and tortelli with artichokes, and desserts of rum cream and coconut crème brûlée with gelato. This meal with cover and a very nice bottle of Terlaner Terlano (a white blend) was € 85.
LOCATION: Via Santo Spirito 64/66r, Firenze
TELEPHONE: (39) 055 211264
EMAIL: [email protected]
---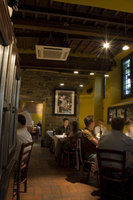 In 1995 the Trattoria Quattro Leoni was rebuilt and enlarged by the clever architect Saverio Innocenti. The Trattoria reopened increasing its Tuscan spirit with its wooden-beam ceilings, stone walls, brick red arches and cotto pavements. The rooms are furnished after the Tuscan tradition: a sober and refined style with straw-bottomed chairs, marble square tables, bunches of withered flowers and laurel hanging on the wall. Passera is wonderful: during this season it is possible to eat outside under a white awning and surrounded by scented laurel-pots and handcraft shops that since many centuries are the virtue of this quarter.
Stefano di Puccio is the actual manager of the Quattro Leoni. He is well known in the city not only for his past activity as a player of the Historical Florentine Soccer, but also for his inclination to cooking, his sincere hospitality and he is a very nice guy.
When welcoming you to the table there will be the delicious appetizers: deep in oil, hot cheesy terrine, artichokes hearts with cheese cream, bresaola and truffle oil, zucchini with stracchino and bresaola and many other things. From the kitchen, many first courses, steak grigliata and tagliate come out with the real Tuscan tradition creating a marvelous menu that varies and is enriched day by day.
LOCATION: Via de' Vellutini 1r , Piazza della Passera, Firenze
TELEPHONE:(39) 055 218562
EMAIL: [email protected]
---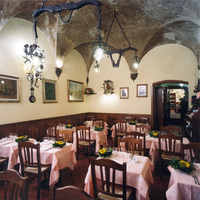 One of Florence's favorite trattorias, Mamma Gina offers an assortment of traditional, mouthwatering soups, appetizers, pasta and grilled specialties, including the unforgettable florentine steak. The excellent service and ambiance contribute to it's fame.
LOCATION: Borgo San Jacopo, 37r, Firenze
TELEPHONE:(39) 055 239 6009
EMAIL: [email protected]
---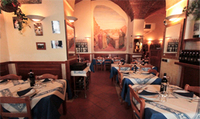 In the heart of the old Florence, steps from the Arno river, the inviting and typically Florentine ambiance of Trattoria Dante offers cuisine that always uses the freshest ingredients and in season products.
The atmosphere of the past, pizza from a wood burning oven, traditional Tuscan recipes and Florentine influences, a stone cellar full of the best Tuscan wines, a daily and seasonal menu, all complimented by an always cordial greeting. Fresh fish and other delicacies from the sea arrive daily from the seaside. The fresco of Dante and Beatrice, painted on the dining room wall, will watch over you as you dine in the warm candlelight.
LOCATION: Piazza Nazario Sauro 12r, Firenze
TELEPHONE:(39) 055 219219
EMAIL: [email protected]
---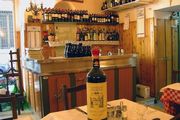 This trattoria, located near Piazza Santo Spirito, is among the most famous and popular trattorias in Florence. The menu varies daily from a selection of freshly prepared traditional Tuscan dishes which are priced economically and served in generous portions.
LOCATION: Via de' Michelozzi 9-red, Firenze
TELEPHONE:(39) 055 21 86 24
EMAIL: [email protected]
---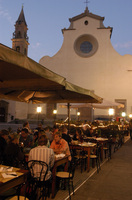 Borgo Antico is a popular spot to dine in the heart of the Oltrarno. During the summer, eat outside amongst the enchantment of Piazza Santo Sprito and enjoy large portion sizes of the various menu selections. Between the appetizers, meats, pastas, pizzas, homemade desserts, and a variety of salads, the dishes are prepared with fresh ingredients and served pleasantly.
LOCATION: Piazza di Santo Spirito, 6-red, Firenze
TELEPHONE:(39) 055 21 04 37
EMAIL: [email protected]
---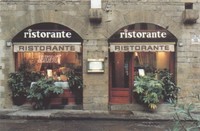 In St. Felicita square near Ponte Vecchio you can find Restaurant Bibo. Florence's typical dishes with an open garden and air conditioning. All credit cards are welcome.
LOCATION: Piazza di Santa Felicita, 6, Firenze
TELEPHONE:(39) 055 2398554
EMAIL: [email protected]
---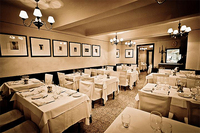 This is the Restaurant Cavolo Nero. A Restaurant with all its ardour, its caress, its pampering and the attention in the dishes an also in the service. A romantic and very well kept Restaurant with beautiful table and dinner by just candlelight. The family you can feel really: Anastasia and Antonio for the service and Achille is the Chef.
The elements that join the three brothers to their guests are: the eno-gastronomic passion and the informal service just for feel at home. Elaborate dishes, with home-made bread, pasta and dessert; they use just high quality local ingredients, high level meat and fish, and the menu change like the season for offer just fresh product. A rich and organize wine cellar, kept in every details with big Italian and French wine, without forgetting the little local wine producer and good wine by the glass. From May to September a very beautiful garden with a jasmine roof.
LOCATION: Via D'Ardiglione, 22-red, Firenze
TELEPHONE:(39) 055 294744
EMAIL: [email protected]
---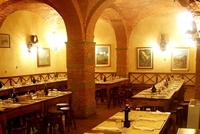 The cuisine at Antico Ristoro is made up of typical and traditional tuscan recipes. You can enjoy excellent cold cuts and cheese appetizers, accompanied by delicious oil soaked snacks. First courses include: ribollita (thick onion soup), potatoes with tomato sauce, tagliatelle with a creamy boar sauce, and penne with pumpkin. The menu is arranged on a daily basis, but you can always find tripe and lampredotto. Main course dishes include friend brain, chicken and fried vegetables, and the exceptional florentine beefsteak. Highlights of dessert are tiramisu, chocolate cake and a traditional oven honey with hot cream.
LOCATION: Via Sant'Onofrio, 1-red, Firenze
TELEPHONE:(39) 055 21 71 34
EMAIL: [email protected]
---