Home
/
Food & Drink
/
Oltrarno / Santo Spirito
/ Trattoria Quattro Leoni
Trattoria Quattro Leoni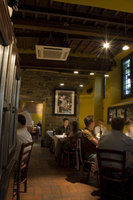 In 1995 the Trattoria Quattro Leoni was rebuilt and enlarged by the clever architect Saverio Innocenti. The Trattoria reopened increasing its Tuscan spirit with its wooden-beam ceilings, stone walls, brick red arches and cotto pavements. The rooms are furnished after the Tuscan tradition: a sober and refined style with straw-bottomed chairs, marble square tables, bunches of withered flowers and laurel hanging on the wall. Passera is wonderful: during this season it is possible to eat outside under a white awning and surrounded by scented laurel-pots and handcraft shops that since many centuries are the virtue of this quarter.
Stefano di Puccio is the actual manager of the Quattro Leoni. He is well known in the city not only for his past activity as a player of the Historical Florentine Soccer, but also for his inclination to cooking, his sincere hospitality and he is a very nice guy.
When welcoming you to the table there will be the delicious appetizers: deep in oil, hot cheesy terrine, artichokes hearts with cheese cream, bresaola and truffle oil, zucchini with stracchino and bresaola and many other things. From the kitchen, many first courses, steak grigliata and tagliate come out with the real Tuscan tradition creating a marvelous menu that varies and is enriched day by day.
LOCATION: Via de' Vellutini 1r , Piazza della Passera, Firenze
TELEPHONE:(39) 055 218562
EMAIL: [email protected]

Last update:
comments powered by

Disqus