Below are some of our most recent entries posted in the Santa Maria Novella category - use the links at the end of the page to access all the articles individually.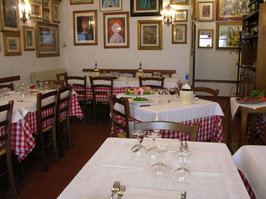 At the Trattoria I Due G you are able to enjoy the most famous dishes Tuscany has to offer cooked to perfection. Try some classic favorites like Truffle Pasta, Artichokes and Fried Courgette flowers.
Their renowned bistecca fiorentina is famed throughout Italy, as well as their succulent roasted lamb that comes accompanied by choice seasonal vegetables. All of which can be polished of with fresh fruit, home made desserts, coffee and fine liqueurs. All of this served in the warm, welcoming and homely atmosphere and decor that is typical of both Tuscan hospitality and family run businesses.

LOCATION: Via B. Cennini 6r, Firenze
TELEPHONE: (39) 055 218623
---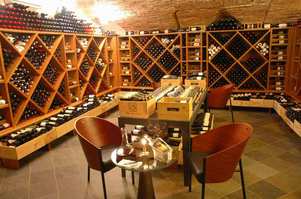 Rossini is located in the building of a beautiful old palazzo(palace) along the Arno river. The atmosphere is warmly formal and elegant, and dressed in black ties, the waiters are charming and pleasant. The food is exceptionally imaginative and delicious, utilizing fresh and seasonal ingredients with a menu that changes from month to month. There is also a set gourmet tasting menu available to experience the chef's full scope of talents. Although not for those on a tight budget, you will get your money's worth experiencing truly one-of-a-kind flavour creations that will leave you feeling not only full, but also inspired.
LOCATION: Lungarno Corsini 4r, Firenze
TELEPHONE: (39) 055 2399224
---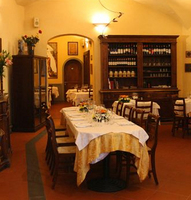 At L' Osteria di Giovanni you can always expect great food and friendly service. It's a family affair with english-speaking sisters, Caterina and Chiara, taking charge and providing a comfortable and welcoming atmosphere to their clientele consisting of a mix of well-dressed italians and tourists. Among a consistently delicious menu of new versions of Tuscan favorites, the Tortelli is a pleasure not to be missed.
LOCATION: Via del Moro 18r, Firenze
TELEPHONE: (39) 055 28 48 97
EMAIL: [email protected]
---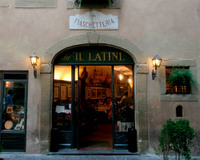 Around the tables of il Latini friendships are interwoven, all the world's languages are spoken, fervent discussions are held and everyone tastes food that has the flavour of the old times past. Il Latini means tradition: a means of discovering Tuscany and its people.
The kitchen is where the best products of Tuscany's countryside are turned into the dishes typical of the tuscan tradition. Il Latini's kitchen was originally the kitchen of Narciso's wife, who used to take the dishes from her home to the cellars in Palazzo Rucellai where tables were set. Sora Maria's cooking was made of ingredients and flavours typical of tuscan cuisine, simple and genuine food that nowadays are still a characteristic of the restaurant.
LOCATION: Via dei Palchetti 6r, Firenze
TELEPHONE: (39) 055 21 09 16
EMAIL: [email protected]
---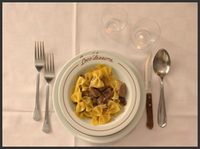 When you arrive at Coco Lezzone; you will be received with a smile. The rooms are small and minimal, with white tablecloths and small flowerpots which decorate the tables where everyone sits together. The lights are bright and there isn't any exotic atmosphere, everything feels like the typical 1800's household. You'll then start your journey back in time through the ancient flavors and tastes. You will rediscover the tastes almost lost through history of the Italian grandmother's kitchen's.
Only traditional dishes are served, true and genuine, in which every detail of the cooking process is very accurate and absolutely original in the recipe and choice of the ingredients. On Thursday the dish of the day is tripe, which you can order for a first course as the zuppa di lampredotto, a special spicy vegetable soup, or if you prefer, the Florentine tripe, in tomato sauce and parmesan cheese. On Friday the tradition commands fish, and they serve traditional cod fish in tomato sauce or squid with vegetables, best with garbanzo beans on the side. If you'd like to eat a fantastic, rare, real florentine steak, it's suggested that you call in to reserve it a day before.
LOCATION: Via Parioncino 26r, Firenze
TELEPHONE:(39) 055 287 178
EMAIL: [email protected]
---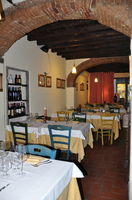 The charming atmosphere of Ostaria dei Centopoveri (the tavern of the hundred poor people) holds up with excellent dishes of creative variations on traditional Tuscan cuisine. The dishes are rich and varied, using fresh, top quality ingredients. Choose from fresh seafood, pizzas, excellent pasta and a range of flavorful daily specials. They have more than 350 labels of top quality wine from every region which are preserved in their private cellar.
LOCATION: Via Palazzuolo 31r, Firenze
TELEPHONE:(39) 055 21 88 46
EMAIL: [email protected]
---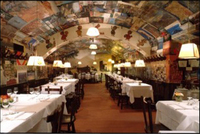 Framed by Via Tornabuoni is Buca Lapi Restaurant. It is comfortable and elegant. Tables are laid out carefully and the service is first rate. Thanks to Luciano Ghinassi, the owner, and his 40 year old passion for cooking, Buca Lapi has become the most famous tuscan trattoria in Italy. Before going there, it is advisable to book a table.
The Buca Lapi is the oldest restaurant in Florence. It was founded in 1880 in the Palazzo Antinori cellars and still shows evidence of more than a century of history, thanks to a very careful restoration. The first room is frescoed and the kitchen is visible.
Meals recall the genuine tastes of the old tuscan cuisine such as toast, hand-made pasta, "ribollita", wild boar with polenta, a pan of tripe, fried food and then, the famous "bistecca alla fiorentina" well-cooked on charcoal-slack and sprinkled with extra virgin olive oil."Chianina" meat served at Buca Lapi is the best in Florence.
LOCATION: Via del Trebbio 1, Firenze
TELEPHONE:(39) 055 284862
EMAIL: [email protected]
---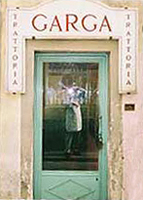 What sounds like another great restaurant - Trattoria Garga:
NOTE: This restaurant opened with a new name (Trattoria Gargina) in the Spring of 2012 - see the Florence Journal post for more details. We can't say if this review speaks to the new restaurant until we eat there again!
Trattoria Garga Gargina is a mecca for citizen food lovers and renowned chefs in their own rights, such as the Food Network's Rachel Ray, who said about Trattoria Garga: "The more I dine out, the clearer the distinction has become between good food and soulful food. Garga has a soul all its own, and the dishes I've eaten here, such as Pasta Magnifico, Veal with Avocado and the famous cheesecake, taste of love, passion and curiosity as much as they do of their ingredients. I dream of this place. Sogni d'oro. Sweet Dreams.'"
LOCATION: Via del Moro 48r, Firenze
TELEPHONE: (39) 055 2398898
EMAIL: [email protected]
---