Home
/
Events
/ Calcio Storico
Calcio Storico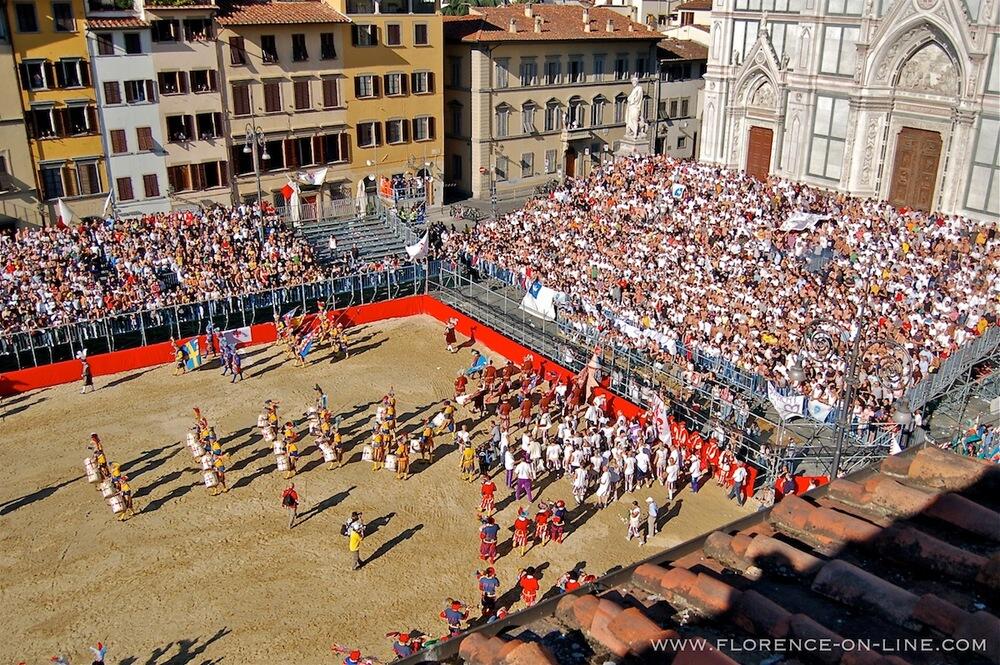 Calcio Fiorentino or Calcio in Costume - better known in Florence as Calcio Storico - is a traditional football game dating back to the 15th century. A violent mix of football, soccer, wrestling and perhaps boxing, the tournament is played in medieval costume every year from mid to late June.
The final match is always held on June 24th, as a celebration of the city's patron saint, St. John the Baptist (San Giovanni). The event takes place in Florence's Piazza Santa Croce, where the piazza is transformed into a playing field with a thick layer of sand under the players and bleacher-style stands for the spectators:
The exact origins of the game are unclear, but some believe it began as a way to keep military troops in shape while waiting to go to battle. Later, it became more of a competitive sport for young Florentine aristocrats. The first official rules for the Calcio Storico were written by Florentine Count Giovanni de'Bardi di Vernio in 1580. Each game of the Calcio Storico has 54 players divided into two teams of 27 which are lined up in three rows. After that, it seems there are no real guidelines - just the final objective of making a goal. The round ball is tossed around the field while the players do anything in their power to stop their opponents from scoring. Punching, tackling, kicking and clawing are all acceptable tactics to stop the opponent (we also saw biting and sand throwing one year!). A goal is made by throwing the ball over 4 foot high wooden wall that runs the length of the field.
The four teams consist of players from four areas of the city: Santa Croce ("Azzurri" or Blues); Santa Maria Novella ("Rossi" or Reds); Santo Spirito ("Bianchi" or Whites); and San Giovanni ("Verdi" or Greens). Needless to say, passionate loyalties fuel the ruthlessness of the tournament.
Before each game, a long procession of the players, flag throwers, drummers, and other Florentine citizens all dressed in historical costumes starts from Piazza Santa Maria Novella and slowly makes its way to Piazza della Signoria, down Via de'Neri, and then up Via dei Benci until it finally reaches Piazza Santa Croce. The comradery, pageantry, costumes and trumpets are quite impressive and worth watching even if you don't have the stomach (or tickets - which are usually very hard to come by) to watch the actual game.
For a real sense of the atmosphere of the event, here is a well-done video of the Calcio Storico:

allowfullscreen>

GLADIATORS SPIRIT'S IS STILL ALIVE Calcio storico Fiorentino Take 2
from
Brice Ansel
on
Vimeo

Last update:
comments powered by

Disqus