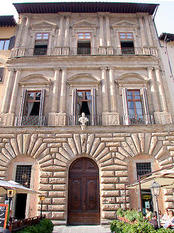 Piazza della Signoria has been the heart of Florence from the Medieval times to the present day.
The square is not only the civic center of the city but is also a magnificent open air museum.
Some of the most important palaces of Florence surround the square, including Palazzo Uguccioni. The building, with its noble and harmonious façade, was created by Mariotto di Zanobi Folfi in 1549 to a design sometimes attributed to Michelangelo or Raphael.
From the ground floor, constructed with large ashlars forming three arches, two stories rise above and are divided by twin columns of the Ionic and Corinthian order which are set on plinths.
On the first floor, above the entrance, is a bust of Cosimo I. In this magnificent building the apartments of Palazzo Uguccioni can be found.