Home
/
Piazzas
/ Piazza Santa Trìnita
Piazza Santa Trìnita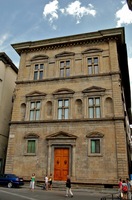 Piazza Santa Trìnita is named after the Church of Santa Trìnita on the northwest side of the somewhat triangular square. At the center of the piazza stands the "Column of Justice", a massive granite column from the east section of the Baths of Caracalla in Rome. It was the gift of Pope Pius IV in 1560 for Cosimo I, the first Grand Duke of Florence. In 1581 the Justice statue by Tadda was added to the top of the column, - the bronze cloak was added even later.
Once an isolated area outside of the city walls, the piazza became part of the city center in 1175 after the founding of the church and convent of Vallombrosa.
The piazza is known for having three sides, but four architectural styles. During the late 14th century noble families began building mansions on the square, and it remains one of the finest examples of living architectural history in all of Florence. Three particularly famous mansions exemplify patrician architectural styles over the centuries. The 14th century Palazzo Spini is now home of the Ferragamo store and museum and a fine example of medieval architecture in Florence (although heavily restored). The 15th century Palazzo Buondelmonti is an typical late medieval/early Florentine Renaissance palazzo with a loggia on the top floor and a façade by Baccio d'Agnolo, while Palazzo Bartolini Salimbeni is a pure late Renaissance example, also by d'Agnolo. Now considered a masterpiece, at the time it was called the "Roman" style and not popular with contemporary Florentines who felt the classical shapes and square windows were out of place. The Church of Santa Trìnita itself has a Mannerist façade added in the very late 16th century by Buontalenti.
The square today marks the beginning of the famous via Tournabuoni, the most luxurious and chic shopping street in Florence (this street is now pedestrian only and was repaved with all new stones and sidewalks in late 2012 and 2013).
Here is a minute of video of the piazza:
And here is page with more information from the Comune of Florence (in Italian only).

Last update:
comments powered by

Disqus