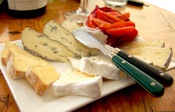 A hard to find place, with an even harder to find website, enoteca Le volpi e l'uva is one of our favorite hidden gems of Florence. I guess the only thing that keeps this charming spot from not being completely overrun with tourists is the fact that it is tucked away a bit off the main tourism thoroughfare that runs from the Ponte Vecchio to the Palazzo Pitti.

It really isn't all that secret - you will find it in most guide books and on many websites and Top 10 lists - but somehow it seems to maintain its sense of a being an off the beaten path kind of place that only certain people have knowledge of.
So what makes Le volpi e l'uva so special? Like most places in Florence that are worth pointing out, it's the wine, the food, and the people. The selection of wine is for the most part very reasonably priced and has been hunted out, sometimes exclusively, by the owners (who are also the people behind the counter). You are assured to get a quality glass here at a great price - and you can also find some unique French wines (rare in Florence!). Then there is their fantastic selection of Italian and French cheeses, along with various panini, bruschetta, salamis, etc.
All of this is served up in the friendliest manner by the small staff who are always ready to make a suggestion to the beginning wine drinker or share some interesting facts about the wine and food being served. Our favorite thing here (well, one of them!) is the plate of French cheeses (see the photo above) with a bottle of Vouvray from France.
If you want to while some time away in a quiet corner of Florence and enjoy something special, we highly recommend Le volpi e l'uva.
Here is a short video we found on YouTube:
Le volpi e l'uva
Piazza dei Rossi 1, Florence, Italy 50125
Telephone / Fax: +39 055 239 8132.
Email: [email protected]
Directions: Cross the Ponte Vecchio, and follow Via Guicciardini (heading towards the Palazzo Pitti). About 100 yards ahead on the left you will find Piazza Santa Felicita', noted by a column situated near the street. Turn left into the piazza, and continue past the church (on your right) and you will enter the even smaller Piazza dei Rossi. Le volpi e l'uva will be on your left.