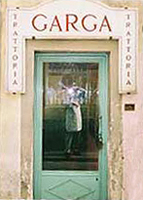 What sounds like another great restaurant - Trattoria Garga:
NOTE: This restaurant opened with a new name (Trattoria Gargina) in the Spring of 2012 - see the Florence Journal post for more details. We can't say if this review speaks to the new restaurant until we eat there again!
Trattoria Garga Gargina is a mecca for citizen food lovers and renowned chefs in their own rights, such as the Food Network's Rachel Ray, who said about Trattoria Garga: "The more I dine out, the clearer the distinction has become between good food and soulful food. Garga has a soul all its own, and the dishes I've eaten here, such as Pasta Magnifico, Veal with Avocado and the famous cheesecake, taste of love, passion and curiosity as much as they do of their ingredients. I dream of this place. Sogni d'oro. Sweet Dreams.'"
LOCATION: Via del Moro 48r, Firenze
TELEPHONE: (39) 055 2398898
EMAIL: [email protected]