People are always asking on travel websites and blogs, "How do I get to The Mall?". "The Mall" is a super high-end boutique outlet not far from Florence that features only the best luxury brands. FYI, it may be an "outlet", but this is high end label shopping - if you come back from here laden with bags, you'll have spent thousands of euros.
Some of the brands you will find:



Balenciaga


Fendi


Gucci


Pucci


Ferragamo


Stella McCartney


YSL


...to name but a few. So how do you get there? That's after the jump.
Here are a couple of ways to get to The Mall using public transportation - driving directions are at the end.
Getting to The Mall by bus (the bus leaves from the SITA Station just a couple of minutes walk from Firenze SMN):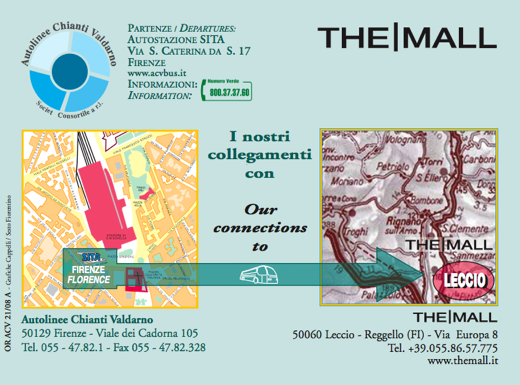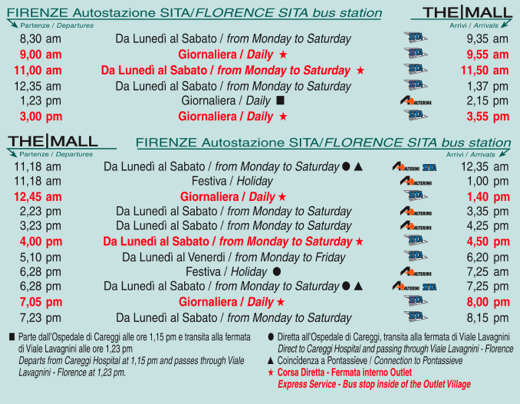 Getting to The Mall by train:
Take a local train from Firenze SMN to Rignano sull'Arno. From there you will find taxis waiting to take you the rest of the way (about 5 to 10 minutes) to The Mall.
Getting to The Mall by car:
There are several ways to go - the map below shows how to go by getting on the A1. This is the fastest way but actually a little longer in kilometers. The other routes are a little slower but more scenic.
Start address: Florence Italy
End address: The Mall Outlet Centre Vie Europa, 8 50060 Leccio Reggello (FI), Italy
Start at: Florence Italy
1. Head southwest on Piazza del Grano toward Piazza de' Giudici - 0.1 km
2. Slight left at Piazza de' Giudici - 35 m
3. Turn left to stay on Piazza de' Giudici - 29 m
4. Continue on Lungarno Generale Armando Diaz - 0.2 km
5. Continue on Lungarno delle Grazie - 0.2 km
6. Continue straight onto Piazza dei Cavalleggeri - 34 m
7. Continue on Lungarno della Zecca Vecchia - 0.4 km
8. Continue on Lungarno Guglielmo Pecori Giraldi - 0.3 km
9. Continue on Lungarno del Tempio - 0.4 km
10. Continue on Lungarno Cristoforo Colombo - 0.9 km
11. Continue on Lungarno Aldo Moro - 0.8 km
12. At the roundabout, take the 2nd exit onto Via Enrico De Nicola - 0.6 km
13. Turn right at SP127 Partial toll road - 3.7 km
14. Take the ramp to A1 Toll road - 24 m
15. Keep right at the fork, follow signs for Roma and merge onto A1 Toll road - 19.4 km
16. Take exit Incisa toward Piazza Giorgio Amendola/SS69 Partial toll road - 0.4 km
17. Keep right at the fork, follow signs for Firenze/Reggello/Pontassieve and merge onto Piazza Giorgio Amendola/SS69 Continue to follow SS69 - 5.6 km
18. At the roundabout, take the 2nd exit Destination will be on the left - 0.2 km
Arrive at: The Mall Outlet Centre Vie Europa, 8 50060 Leccio Reggello (FI), Italy