Home
/
Travel Tips
/
Maps
/ Florence City Center Bus Map
Florence City Center Bus Map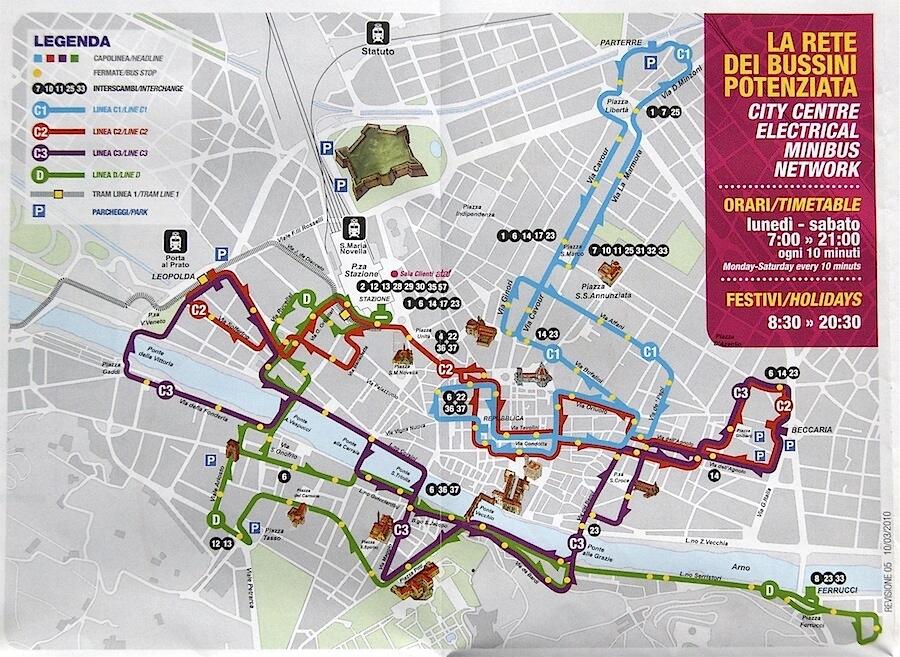 The map on this page is outdated! And also note this is just for the small electric buses that run in the very center of Florence and on some of the pedestrian only streets (pedonale). We just added a page with an older but still mostly accurate
bus route map of Florence
.

The current electric mini-buses are the: C1, C2, C3 & C4 (roughly equal to line D on the map)
The buses run Monday to Saturday, from (roughly) 7 am until 9 or 10 pm, every ten minutes (more or less), and from around 8:30 am to 8:30 pm on Sundays and holidays (check the links below for specific times).
You can find timetables on the AUTOLINEE TOSCANE website (links below), but there are no maps (even though it says there are!). They do have tables/lists of the stops but the route on an actual map.
Let us know in the comments if you find these links broken - they are to the main page for each route, where you will find both summer and winter schedules, as well as any status updates for the line:
The C1 line has a small deviation due to Tramvia construction that started in June, 2023. See the route change below. The construction started this summer (2023) and is expected to last about 2 years.

Last update:
comments powered by

Disqus