Home
/
Food & Drink
/
Recipes
/ Artichoke with Herbs Recipe
Artichoke with Herbs Recipe
This recipe is from Ginny and Fiamma of Kitchen Chez Nous.
4 Mamme* artichokes (carciofi)
1/2 tablespoon minced basil (basilico)
1/2 tablespoon minced parsley (prezzemolo)
3-4 slices tuscan bread - without crust
1-2 tablespoons Parmigiano Reggiano
5 ounces Stracchino cheese
2 tablespoons olive oil
salt & pepper
Prepare a bowl of cold water and squeeze a lemon in it. Pull off the outer leaves of the artichokes and discard - take off enough leaves so that you get to the inner leaves that are more tender and lighter in color. Chop off the the stem so you have a flat surface on the bottom of the artichoke, and peal around stem where leaves were removed. Chop off top half of leaves so that all the sharp, tough tips are removed - you will now have a flat top on the artichoke. Scoop inside the center of the artichoke with a spoon to remove the fuzzy choke and make room for the stuffing. Rub each artichoke with lemon to avoid discoloration and drop in prepared lemon water.
Bring a pot of water to a boil, squeeze in a lemon and salt the water. Drop the artichokes into the boiling water and cook until tender but not too soft, about 8 minutes. Remove with slotted spoon, blot with paper towels and set aside to cool.
To prepare the stuffing, chop bread into little cubes/crumbs. With your hands, mix bread together with chopped basil, chopped parsley, grated parmigiano and olive oil. Next coursley chop the Stracchino cheese and mix into the bread mixture (this cheese is a soft white cheese, sort of a mix between the textures of cream cheese and fresh mozzarella). Season with salt and pepper.
Divide the stuffing evenly among the cooled artichokes and place in an ovenproof pan. Put a few dry breadcrumbs on the top of each stuffed artichoke and drizzle with olive oil. Bake for 15 minutes until golden in a hot oven (about 400 degrees farenheight). Serve hot or room temperature, garnished with parsley leaves.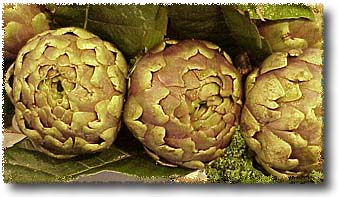 *Note: The "Mamme" artichoke is rounder than the more pointy "Morrelli" artichoke. The leaves on the top of the Mamme sort of curve in on themselves rather than coming out to a point. I'm sure the Morrelli artichokes would work fine in a pinch.

Last update:
comments powered by

Disqus