Below are some of our most recent entries posted in the Maps of Florence category - use the links at the end of the page to access all the articles individually.

Updated on September 12, 2012: The Department of Tourism in Florence has a new bus and road map out to help people get in and out of Florence and the surrounding areas. Of course you have to get one at the tourist office, which sort of makes it a Catch-22 situation. Anyway - it has a ton of good info on it, like this little map below showing the locations of the bus stations near the train station:
Continue reading
Florence Bus Station map
.
---
The Medici ruled Florence and most of the surrounding territory almost continuously from the early 15th century to the early 18th century. A large part of their legacy is the constellation of villas they left: a network of rural buildings, farms, hunting lodges, and villas used as country palaces by the Medici for vacations, hunts, parties, and family celebrations.
Click on the pins in the map for more information about the many villas of the Medici that surround Florence:
---
The electric mini-buses that run in the city center had a radical change this year (2010) when more of the center was closed to traffic. The below map shows the updated routes: C1, C2, C3 & D (don't ask for the logic on that - "C" must mean center now... but why the bus on the other side is "D" and not "O", or why they didn't keep A, B, etc... who knows!).
You can also see the Tramvia Line 1 on this map.
The buses run Monday to Saturday, from 7 AM until 9 PM, every ten minutes, and 8:30 AM to 8:30 PM on holidays. I guess they don't run on Sundays - which I had not noticed before.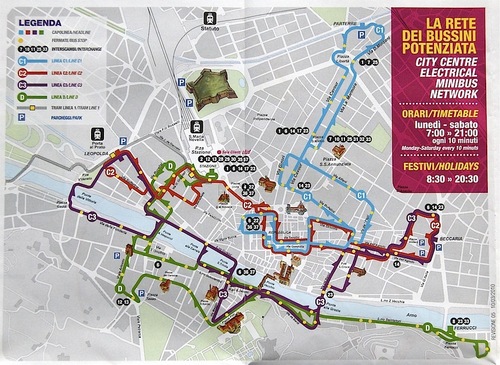 ---
---
An annotated map with photos and locations of the churches, cathedrals, basilicas and monasteries of Florence, Italy.
---
Inside the old city walls of Florence (well, what used to be the walls and is now the viale or large avenue circling the city), driving is limited to registered vehicles (city residents) except for a small area around the train station (Santa Maria Novella). Florentines call this the ZTL, or "Zona Traffico Limitato". It is important to know this to avoid receiving HUGE traffic tickets by driving your car into the center of Florence. On the map below (click it for a larger version), you can see the ZTL entry points (red and blue "T"s) and the various zones by letter (which correspond to where residents can park). You can drive into the center with a rental car if you are staying at a hotel, but the hotel must let the traffic police know your license plates, etc. And if you do drive in, make sure to use one of the blue "T" spots, not the red - even with a residents permit to enter, you can't enter at the red "T" signs (I now know - it was an expensive lesson).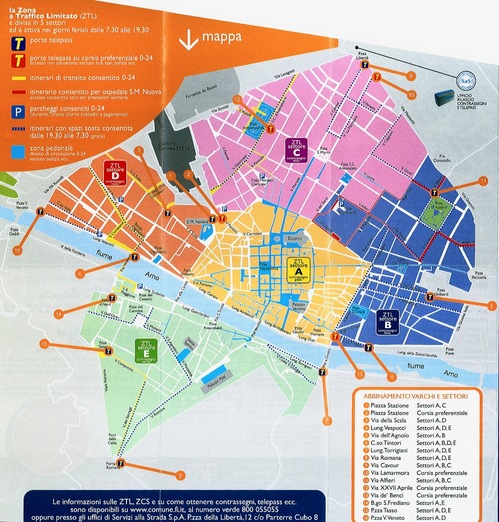 So remember - if you are just coming to Florence as stop on a day trip, or you are staying at a self catering apartment (i.e. not a hotel), you can not legally drive into (most of) the center, although personally we have heard stories of people doing so and not getting tickets, if you do the fines are steep and they are getting better and better at finding you and making sure you pay. In any case, this is something to be aware of and be careful of! Study the map closely and you will see there are a few ins and outs (Sundays are open, as are nights from 7:30 PM to 7:30 AM, but not in the summer, etc.). Lastly, the light blue shaded streets are "zona pedonale" or pedestrian zones, and you shouldn't be driving on them at all!
---
This is a scan of a tourist map of Florence from what appears to be a turn of the century guide book. It may be from a Baedeker's guide.
---
Our new and improved dining maps are coming throughout 2014. For now, check out our Santa Croce Restaurants section - most of them have their own maps.
---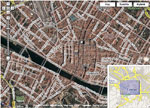 Here is another useful map of Florence - a satellite view (with street names, etc.) that you can zoom into, pan around and drag.
---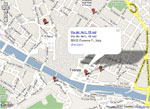 This is something new and cool - a custom map of Florence that you can search for hotels, museums, etc. Check it out. More like this on the way for other cities and towns.
---