Home
/
Markets
/ Central Market (Mercato Centrale)
Central Market (Mercato Centrale)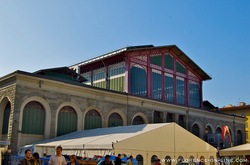 Florence's bustling Central Market (better known in Florence as the "Mercato Centrale") is a fascinating place to visit, especially for foodies. Located in a towering cast-iron building dating from 1874, its entrances are often obscured by the stalls of the San Lorenzo market that line the streets outside (the San Lorenzo stalls feature crafts, leather, clothing, shoes, souvenirs, etc.).
Inside the market are myriad vendors dedicated to the primary ingredients of Tuscan cuisine. On the ground floor you will find butchers of all types, with everything from pig's feet to whole chickens with their heads and feet still on, to giant, milky-white sheets of tripe, rabbits, wild boar, steaks, sausages, etc. You will also find gastronomie offering cheeses, cured meats, olives and other delicatessen fare, as well as stalls selling bread, pasta, wine and other grocery items.
In the northern corner (the market sits on angle which you will notice when looking on a map) you will find the seafood area, with several vendors featuring fish and shell fish of all kinds - some of it wild caught in Italy and some imported from the rest of the world.
For those who are peckish, the market is a great place to buy picnic supplies - some stalls will even make sandwiches to order. A local Florentine favorite place to eat (and one of ours too) is Nerbone, located inside the Central Market and founded in 1872, it is a walk-up eatery (cafeteria style) with a bank of marble-topped tables that is positively swamped at lunchtime and offers cucina povera and other Tuscan dishes. Their specialty is panino con bollito, a boiled beef sandwich where the bread is dipped in the cooking broth, and topped with salsa verde and salsa piccante (if you can take the heat!). You will find Nerbone in the southern corner of the market.
The Central Market is open Monday through Saturday from 7 a.m. to 2 p.m., with additional Saturday hours from 4 p.m. to 7 p.m.
* The 2nd floor or "Primo Piano" of the market is now open again (since 2014) as a food and wine destination with restaurants, a cooking school, etc. We'll have more about this soon!

Last update:
comments powered by

Disqus