The Ponte (bridge) Amerigo Vespucci is a contemporary bridge over the Arno River named after the famous Florentine explorer Amerigo Vespucci. The Vespucci family was active in this area of Florence, and Vespucci is buried in the nearby church of Ognissanti (All Saints).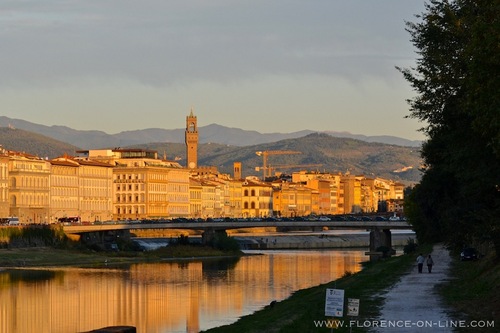 The bridge was built to a plan of the architects George Giuseppe Gori, Enzo Gori and Ernesto Nelli and of engineer Riccardo Morandi and completed in 1957. While it was certainly an impressive contemporary structure when new, it is currently in dire need of repairs and maintenance.
The plan called for three spans in a thin, flat arch over two piers which support the roadway. The final effect gives the impression of a single, slightly curved span. While Florence has several historical and famous bridges, this span, while having some pleasing details and material usage, is suffering to withstand the test of time. It is however an important link for cars, commercial, and bus traffic heading south of Florence - and it is still outside the ZTL.
It is also a stealth car park for locals (the "spots" are not marked in blue or white - it is basically "free" parking for those in the know).