Home
/
Events
/ Festa della Rificolona
Festa della Rificolona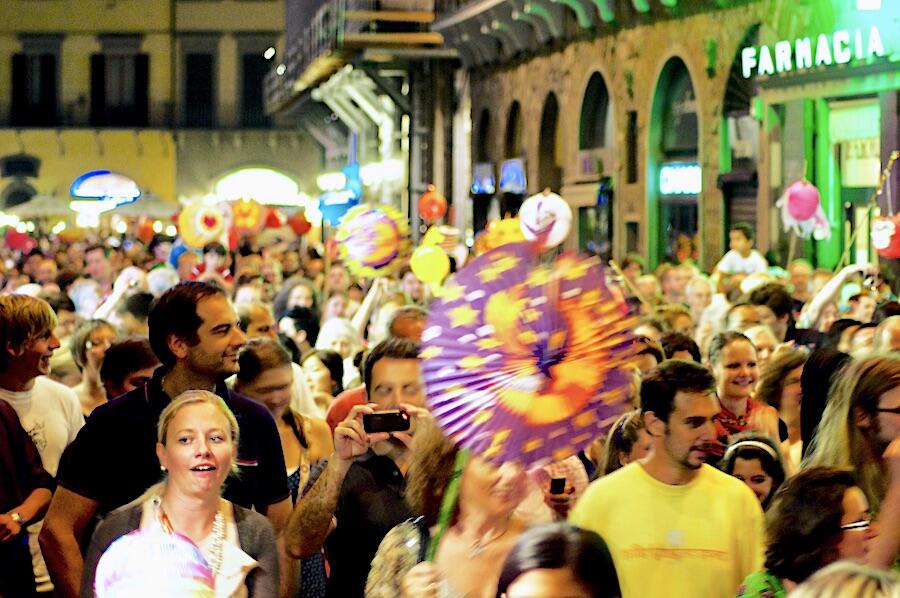 The Rificolona parade leaving Piazza Signoria
September is a time for many Florentine and Tuscan events and festivals. One of our favorite nights of the year in Florence is the Festa della Rificolona, an evening parade of sorts through the streets of Florence, with children carrying paper lanterns lit with candles, while other children shoot the lanterns with pea shooters!
(In the modern version these "pea shooters" are hollow metal straws and the "peas" are tiny balls of clay or spitballs.)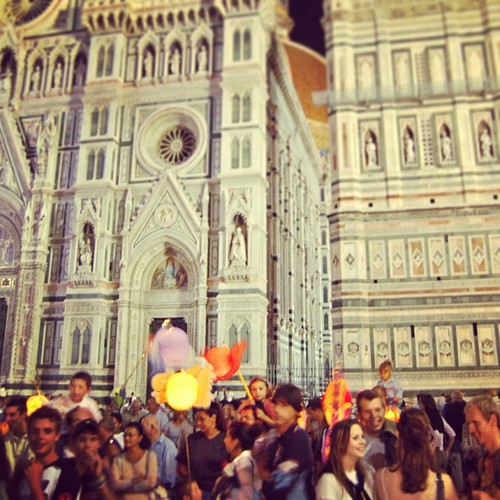 The Rificolona parade in front of the Duomo
Festa della Rificolona Origins
The festival's origins are not exactly clear or agreed upon by scholars, but it likely originated from the significant autumnal market held on September 7th, the eve of the Nativity of the Virgin, in
Piazza Santissima Annunziata.
This market event was perhaps the most pivotal of the year for farmers, as it provided them with essential financial means to prepare for the approaching winter. In order to secure a prime location for their stalls, individuals from remote areas would commence their journey long before dawn, guided by lanterns crafted from candles ensconced in tissue-paper windshades.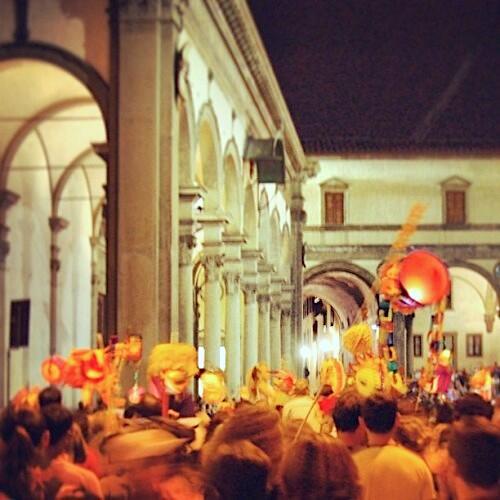 The Rificolona procession in front of the church of Santissima Annunziata
Local Tip
Brigidini are traditional Tuscan cookies that originate from the region of Lamporecchio in Tuscany, Italy. These are thin, crisp wafers made primarily from a simple mixture of eggs, sugar, and aniseed or anise-flavored liqueur. These cookies are often made using a specialized iron press, similar to a waffle iron. Once prepared, Brigidini are typically served as a dessert or snack and are particularly popular during festivals, fairs, and other special occasions in Tuscany. Their sweet, aromatic flavor and crisp texture make them a well-loved treat in the region.
These families, often dressed in what they considered their finest attire, became subjects of amusement for the urban populace. Even today, the term "rificolona" is used by Florentines to describe a woman who is overdressed or excessively made-up. During the event, children would partake in various activities, such as blowing whistles or crafting their own tissue-paper lanterns to accompany the procession. Some would even engage in playful mischief, using blowguns to target the farmers' lanterns in attempts to topple the candles and ignite the tissue paper.
The tradition is believed to have its roots in the mid-17th century when rural communities would travel to the city to participate in the Feast Day. These individuals would congregate in the square in front of the
Basilica of Santissima Annunziata
, bringing along their wares for the market.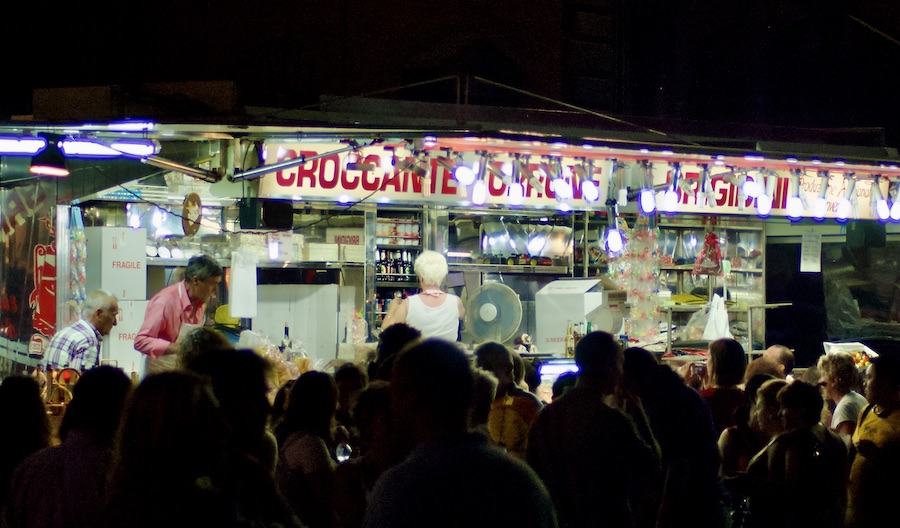 A snack vendor selling brigidini in Piazza Santissima Annunziata
The contemporary version of the Festa della Rificolona is led by a band (or two sometimes) as it makes it's way to Piazza Santissima Annunziata, and then usually a bonfire of all the lanterns happens, and there are speeches, music, food vendors, etc. For us the best part was always the procession and the sense of community events like this perpetuate. It is a truly magical evening and something not to be missed if you are in Florence on the evening of September 7th.
Festa della Rificolona Lantern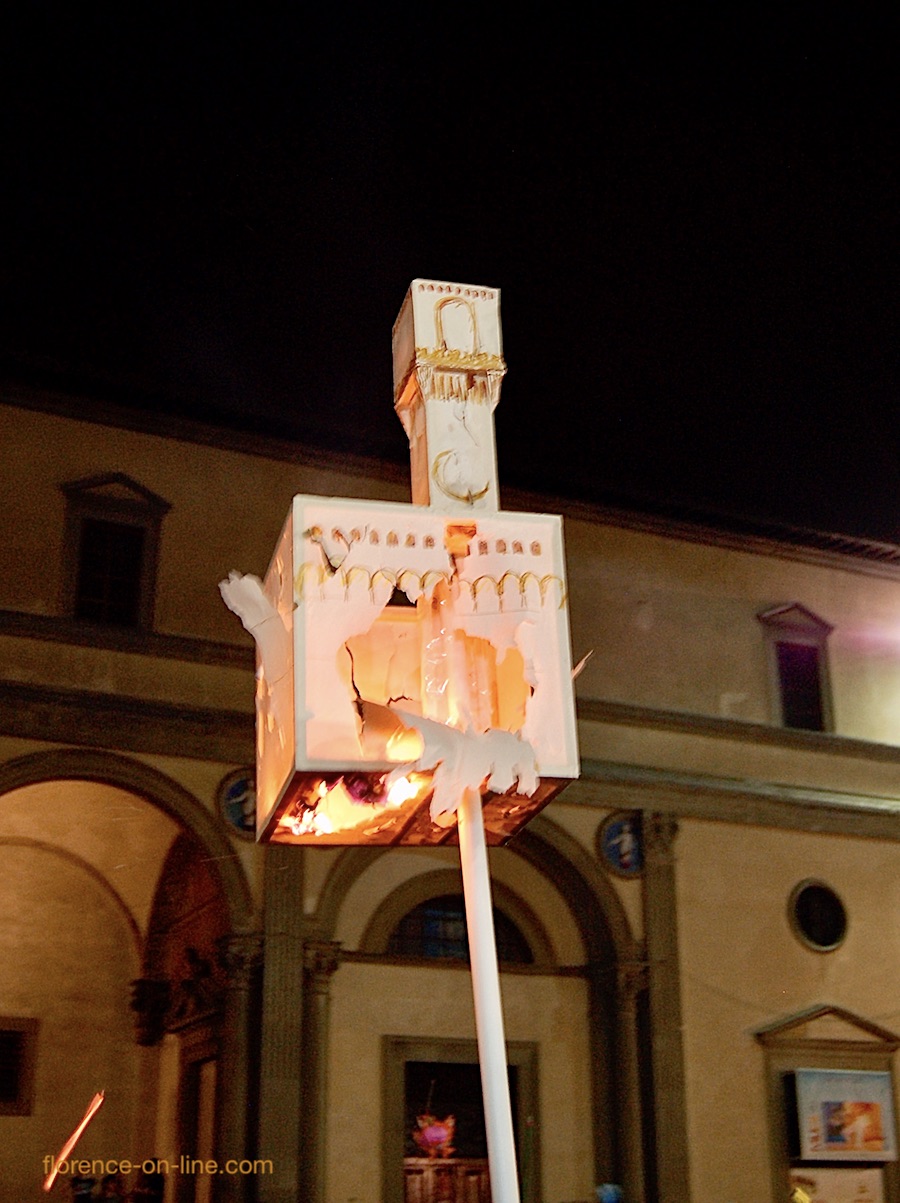 Rificolona lantern of Palazzo Vecchio
This is a lantern I made way back in 2008 of the Palazzo Vecchio (probably not very authentic subject matter but for some reason I thought it would be neat). It was balsa wood, paper, and paint, with a candle in a little tin cup, so it held up pretty well to the spitballs for a while. Eventually it took some holes from the onslaught and caught fire, and ended up in the bonfire with dozens of others.
Here is a quick video of what the night is like:
And the ending location in Piazza Santissima Annunziata:

Last update:
comments powered by

Disqus