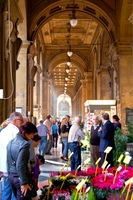 If you find yourself in Florence centro on a Thursday morning, you may notice the beautiful flowers all the Florentines are carrying home to their palazzi. They've already been to the Thursday Flower Market - the place to go for fresh cut flowers for your table, geraniums for your windowbox, rosemary for your kitchen sill or potted olive trees for your city garden.
The selection is extensive and includes everything from herbs and flowers to palms and cactus. We also purchase our Christmas tree there each year. Even if you aren't looking to buy a "mazzo" (bunch or bouquet) of flowers, this market is worth a browse for it's shear beauty.
The flower market is located on Via Pellicceria, starting on the southwest corner of Piazza Repubblica and running south under the arcade and past the post office. The market starts early and all the cut flowers are pretty much sold out by lunch. By mid-afternoon all the vendors are packing up to head back to their farms, so go early. Open all year round.