Home
/
Piazzas
/ Piazza Sant'Ambrogio
Piazza Sant'Ambrogio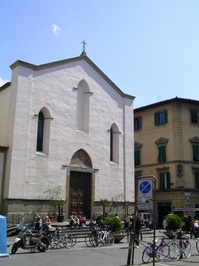 Piazza Sant'Ambrogio is overlooked by the church of Sant'Ambrogio (in English St. Ambrose), one of the oldest churches in Florence.
The building was the home of the Benedictines starting in the 10th century but remodeled at the end of the 13th century and restored several times during the following centuries. It is furnished with notable paintings and frescoes, among them the "Madonna del Latte" by Nardo di Cione, a triptych by Bicci di Lorenzo and Cosimo Rosselli's fresco of a procession. Many of the famous works of art which once adorned the walls of the church are now kept in the Uffizi Gallery (for example "S.Anna" by Masaccio and Masolino), however the splendid altars of the renaissance are still in place.
The piazza is full of life at all hours of the day. Be sure to try the famous tripe vendor on the corner of via dei Macci for lunch, or during the evening stop for an aperitivo at the always crowded CaffਠSant'Ambrogio. Many of the city's best restaurants and pizzerias lie close to the piazza, including il Pizzaiuolo, Le Campane, Cibreo, and many more. During the summer the piazza is crowded with people of all ages enjoying the evening air and meeting friends. If you are in the area be sure to visit the Sant'Ambrogio market behind the piazza, open daily (except for Sundays) from 7-2.

Last update:
comments powered by

Disqus