Home
/
Museums
/ Museum of San Marco
Museum of San Marco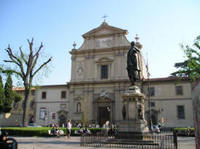 The museum occupies a vast area of the Dominican convent and offers visitors an example of a perfectly preserved 15th century convent, based on the rational and harmonious plan inspired by Bruschelleschi's innovations. The complex also contains the works of Fra' Angelico, one of the greatest artists of the Renaissance. A Dominican monk, he closely collaborated with Michelozzo and his pupils to create the fresco of the large alms-house, the refectory, the cloister and the monks' cells on the first floor.
Other works by Fra Angelico, of various provenance, were assembled here in the 20th century, resulting in a remarkable collection of the artist's works. There is also an important collection of 16th-century paintings including numerous works by Fra Bartolomeo. The museum has a section devoted to fragments of sculpture and architecture from buildings of the city center which were demolished in the 19th century.
The museum is open from Monday to Friday from 8:15 to 13:50 and on Saturday and Sunday from 8:15 to 16:50.
Museum of San Marco
Piazza San Marco, 1
Florence, Italy 50123
+39 055 294883
www.polomuseale.firenze.it/english/musei/sanmarco

Last update:
comments powered by

Disqus