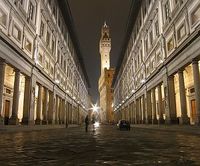 The Uffizi is one of the oldest and most famous museums in the world and a must-see for any visitor to Florence. Its collection of Medieval and Renaissance paintings comprises several universally acclaimed masterpieced, including works by Giotto, Simone Martini, Piero della Francesca, Fra Angelico, Filippo Lippi, Botticelli, Mantegna, Correggio, Leonardo da Vinci, Raphael, Michelangelo and Caravaggio. German, Dutch and Flemish masters are also well represented with important works by Dürer, Rembrandt and Rubens.
The Uffizi is housed in the Palazzo degli Uffizi. The palazzo was erected by Giorgio Vasari between 1560 and 1580 to house the administrative offices of the Tuscan State. The Gallery was created by Grand-duke Francesco I and subsequently enriched by various members of the Medici family, who were great collectors of paintings, sculpture and works of art. The collection was rearranged and enlarged by the Lorraine Grand-dukes, who succeeded the Medici, and finally by the Italian State.
The museum is open from Tuesday-Sunday, 8:15-18:50.
Uffizi
Loggiato degli Uffizi, 6
Florence, Italy 50122
+39 055 294883
www.polomuseale.firenze.it/english/musei/uffizi