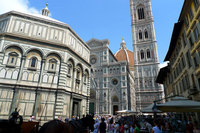 For the past 1600 years, the area today known as Piazza del Duomo has been one of the main points of Florence's religious life. It is made up of the area in front of and around both sides and the rear of the Duomo, though many people also include Piazza San Giovanni (the area around the Baptistry) in this description even though technically it is a separate and different piazza.

In the environs of the piazza you will find the Duomo (Santa Maria del Fiore), Giotto's Campanile, the Baptistry of San Giovanni, the Loggia del Bigallo (now a tourism information point), the column of San Zanobi (Florence's other patron saint - they have two!), the Opera di Santa Maria del Fiore, and the Museo dell'Opera di Santa Maria del Fiore (this is the museum behind the Duomo at the of the church where the dome is - it is different from the Opera di Santa Maria del Fiore, which is in a building across from the baptistry).
The square is saturated with visitors by day snapping photos and admiring the beauty of the church, the baptistry, the campanile and the surrounding sites. The front steps (recently renovated after a section had become dislodged) are now mostly roped off to keep people from using them as a resting spot (something we think is ludicrous!), although the main tourist entrance is via the front steps, usually on the left hand side if you are facing the cathedral. The church itself is still free to visit (the campanile, dome, and crypt of Santa Reparata all require separate admission) and depending on the season, weather, and time of day the line to get in can be long but security measures have been lowered in recent years and the wait is usually not too bad.
In January of 2010 the area become "pedonale", or a pedestrian zone, which has greatly lowered the noise level, but the foot traffic is so intense it can be difficult to navigate during the day by bike. Note that even though it is a pedestrian zone, the famous Misericordia di Firenze still operate from the area around the campanile, and their ambulances can come whizzing by at full speed, blaring their sirens, at any time!
On the south side of the Duomo you will usually find watercolor artists selling their paintings or ready to draw portraits, while on the north side there are some shops and restaurants, as well as Via Ricasoli and Via dei Servi, two important and ancient streets leading to Piazza San Marco and Piazza della Santissima Annunziata respectively.