Below are some of our most recent entries posted in the Santa Croce category - use the links at the end of the page to access all the articles individually.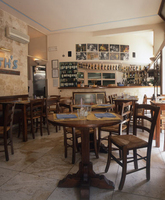 Ruth's is essentially Florence's only kosher restaurant and located next door to the city's beautiful synagogue. The menu, which is enhanced with a number of daily specials, is primarily vegetarian but also contains many fish dishes, all at decent prices. The blends of flavor and aroma are enjoyed in a cosy environment by a clientele which is often a mix of people from all over the globe.
LOCATION: Via Luigi Carlo Farini 2a, Firenze
TELEPHONE: (39) 055 248 0888
EMAIL: [email protected]
---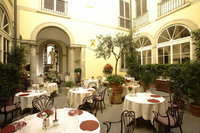 In the heart of the city of the Medici, a two minute walk from Piazza della Signoria, one unexpectedly discovers the solemn Palazzo Jacometti Cioffi. Accessed through two granite columns into a temple of taste is Enoteca Pinchiorri. The combination of the Italian and French cultures through the partnership of Giorgio Pinchiorri, an Italian from Modena, and Annie Feolde, from Nice, has resulted in nothing less than inspiring. During thirty-five years of this collaboration of passions, they have created something quite remarkable that globally represents the supreme Italian taste at the table. But with dishes like "Sea scallops with potato and lemon purà©e, chick-pea puff-pastry and sea scallop fringes" coming in at 80 euro a plate, be sure your budget can keep up with your impeccable tastes.
LOCATION: Via Ghibellina 87, Firenze
TELEPHONE: (39) 055 242757
WEBSITE: http://www.enotecapinchiorri.it
---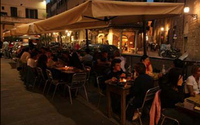 Founded in 1994 Osteria de' Benci immediately became a cult location for local Florentines. Signature tasty pasta dishes, savory grilled meats and a glass of fine wine softly accompanied by jazz and funky music, are the main ingredients of success for the osteria. Since it's opening it has expanded from a single dining room to include "il già¹" (downstairs), "il fuori" (outside), and il caffà¨, creating a corner of contemporary Florentine life in the heart of the anceint city.
LOCATION: Via de' Benci 13r, Firenze
TELEPHONE: (39) 055 2344923
EMAIL: [email protected]
---
As of 2012 this restaurant appears to have be closed. If you have any information about it, please leave a note in the comments.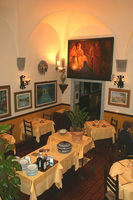 The restaurant Leo in Santa Croce rises up over the remains of an antique roman amphitheater in an ancient environment with original capitals dating back to the Middle Ages. Everyone receives a warm and special welcome in the restaurant where thanks to the experience acquired, the qualified staff offer the clientele national specialties and the best fresh pasta worked exclusively by the hands of their own chefs. There is also a wide range of top quality wines and liqueurs available.
LOCATION: Via Torta 7r, Firenze
TELEPHONE: (39) 055 210 829
EMAIL: [email protected]
---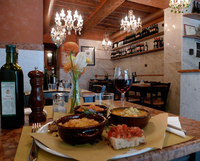 Take the tuscan table and add the skillful touch of flavor, fantasy and lightness. Put yourself in a welcoming place like the family dining room and add handful of elegance with antique lamps, marble tables and wood furniture. Positioned beside all the magnificence of the Santa Croce basilica you have the trattoria Il Francescano with it's captivating kitchen of traditional tastes. The trattoria of sixty is spread through three rooms with qualified personale that offer the clients a polite discretion and at the same time a friendly attentiveness. The trattoria is also positioned in one of the most vivacious neighborhoods for the night life, offering between theaters and local hotspots, a thousand ideas for after dinner. It's an experience not to be missed, thanks to the combination of delicious food, the great drinks and the warmth atmosphere.
LOCATION: Largo Piero Bargellini 16, Firenze
TELEPHONE: (39) 055 24 16 05
EMAIL: [email protected]
---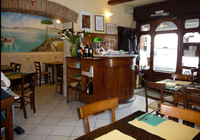 Frommers review:
Despite their considerable skill in the kitchen, Florentines just can't make a decent pizza. It takes a Neapolitan to do that, so business has been booming ever since Naples-born Carmine opened Il Pizzaiuolo. Even with a reservation, you might have to wait for a spot at a long marble table. You've come to the right place for a pizza, but this is also one of the best places in the city for a good Southern seafood dish, like the impepata di cozze, a mussel stew, after a nice antipasto vesuviano, which comes with smoked tuna, mussels, prawns, and calamari.
LOCATION: Via dei Macci 113r, Firenze
TELEPHONE: (39) 055 241171
---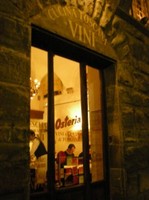 Osteria del Caffe Italiano is the place for a light lunch at a special price, for a tasty snack with the best salami and cheese form Tuscany, for an aperitif in the evening and dinner after the theater. The food is made of simple recipes, prime ingredients searched with passion in every corner of the region.
The small Pizzeria of Caffe Italiano is connected to the Osteria but has a separate entrance. Here, only the pizza is available and they don't accept reservations. There aren't many seats but it's worth the wait to eat what many to consider to be the best pizza in Florence. With only 3 choices, Margherita, Napoli and Marinara the pizza is prepared with love and cooked in the authentic method of Napoli.
LOCATION: Via dell'Isola delle Stinche, 11r, Firenze
TELEPHONE: (39) 055 289 080
EMAIL: [email protected]
---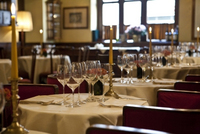 Frommer's review:
There's no pasta and no grilled meat -- can this be Tuscany? Rest assured that while Fabio Picchi's culinary creations are a bit out of the ordinary, most are based on antique recipes. Cibrà¨o actually has a split personality; this is a review not of the trattoria branch across the street, but of the fan-cooled main restaurant room, full of intellectual babble, where the elegance is in the substance of the food and the service, not in surface appearances. Waiters pull up a chair to explain the list of daily specials, and those garlands of hot peppers hanging in the kitchen window are a hint at the cook's favorite spice. All the food is spectacular, and dishes change regularly, but if they're available try the yellow pepper soup drizzled with olive oil; the soufflà© of potatoes and ricotta spiced and served with pecorino shavings and ragà¹; or the roasted duck stuffed with minced beef, raisins, and pinoli.
LOCATION: Via del Verrocchio 8r, Firenze
TELEPHONE: (39) 055 2341100
EMAIL: [email protected]
WEBSITE: http://www.edizioniteatrodelsalecibreofirenze.it/
---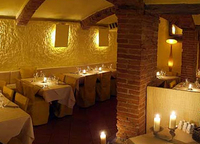 One of the most characteristic places in Florence, Cantina Barbagianni is well known for its creative cuisine but also for its traditional Tuscan dishes. You can enjoy a delicious meal in the beautiful entrance room or in one of the two ancient cellars that offer an unforgettable atmosphere of Florence of the past.
The restaurants separate areas of the ground floor and basement give Cantina Barbagianni the benefit of creating an atmosphere that is ideal for an array of occasions from a first date to a birthday celebration, from a business lunch to a conference dinner.
LOCATION: Via Sant' Egidio 13r, Firenze
TELEPHONE: (39) 055 248 0508
EMAIL: [email protected]
---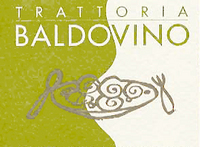 Conveniently located next to Piazza Santa Croce, one of the main tourist spots in Florence,Trattoria Baldovino is a great place to eat good local food and wine at reasonable prices. The menu includes fresh and delicious options of antipasti, salads, pastas and their highly recommended pizza which you have the option of enjoying either inside or outdoors. Relax and refuel with an authentic meal at good value.
LOCATION: Via San Giuseppe 22r, Firenze
TELEPHONE: (39) 055 241773
EMAIL: [email protected]
---