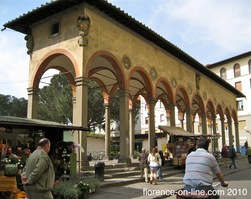 Piazza dei Ciompi, named for the "Ciompi" or wool carders of Florence (and their eponymous revolt in 1378), occupies a working class corner of Florence north of Piazza Santa Croce and close to Piazza Sant'Ambrogio. This area was particularly hard hit in the flood of 1966 - look for plaques well up the walls of the palazzos around the square to see how high the water was.
A graceful 16th century construction, the Loggia del Pesce by Giorgio Vasari, now stands at the north end of the Piazza. The loggia was formerly located in Piazza della Repubblica and was moved here when the old market was razed during the reunification period. Next to the loggia on the NE corner is a flower vendor.
The square is also home to the "mercantino" or flea market - small sheds selling antiques, art, old books, and various oddities. The market is perpetually scheduled to be moved to a new location... On the last Sunday of each month there is a larger flea market with many more vendors displaying their goods on tables in the streets surrounding the square.
Across the street on the south side of the piazza is a small park and children's playground maintained by local pensioners. There is a public restroom available here when the gate is unlocked.
To enjoy the square and a drink, sit outside at Plaz on via Pietrapiana 36r, just across from the loggia.
Here is a short video from a few years ago: