Below are some of our most recent entries posted in the Annual Events category - use the links at the end of the page to access all the articles individually.

Here is the official site of the 2016 Gelato Festival - the final event of the season is September 1st to 4th, at Piazzale Michelangelo:

THE FIRST TWO WINNERS FROM EACH STAGE OF THE TOUR WILL CHALLENGE ONE ANOTHER IN THE GRAND FINAL IN FLORENCE.
18 OF EUROPE'S MASTER GELATO MAKERS
WILL ENTER THEIR OWN UNIQUE FLAVOURS IN AN EFFORT TO BECOME
THE OUTRIGHT WINNER OF THE 2016 GELATO FESTIVAL
PURCHASE YOUR GELATO CARD IN ADVANCE AND COME ALONG AND CHOOSE THE FLAVOUR OF THE YEAR.
One of Florence's newer annual events, the Gelato Festival has been happening for several years now, usually around the end of May (in 2015 the event will also come back to close the tour in October in Florence).
These comments were about the first festival in 2010:
"We had lots of great gelato, but the lines were long at times and the overall organization seemed a bit lacking. It did seem to be a big success however judging by the number of people eating ice cream. The "Gelato University" put on in Piazza Santissima Annunziata by industry giant Carpigiani was also packed for every lesson."
This year's event (2012) is scheduled for May 23rd to 27th and will take place in the following piazzas:
I think last year's edition was better than the first, and maybe 2012 will be their best yet. There is much more going on than just tasting gelato of course - visit the official website for more details (in Italian only).
These photos are from 2010 and 2011:
---
Italy's Liberation Day (Festa della Liberazione) is a national Italian holiday commemorating the end of the World War II and the Nazi occupation of the country. There is usually a morning ceremony in Piazza dell'Unità  with Carabinieri marching band, war veterans and city officials, and a concert in the afternoon in Piazza Signoria. Wreaths are set out in the city in various locations, similar to the one below: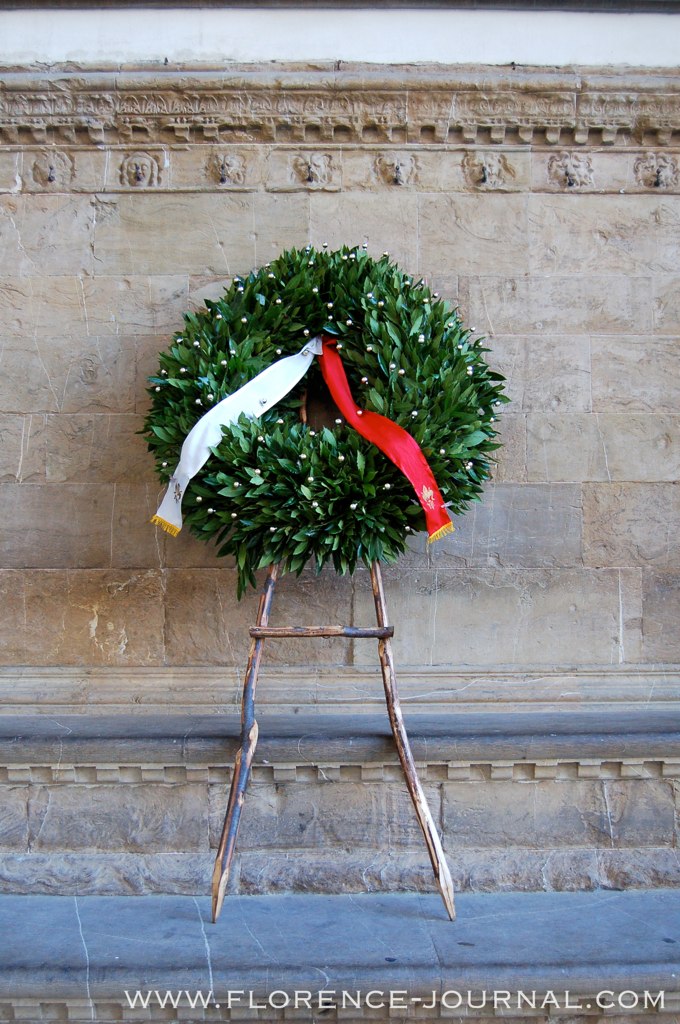 ---
If you want to witness one of the more strange, interesting and exciting rituals of Easter than the "Explosion of The Cart" or "Scoppio del Carro" (also known as "il Brindellone" or the "Cart of St. John") is a must see event on Easter Sunday in Piazza Duomo.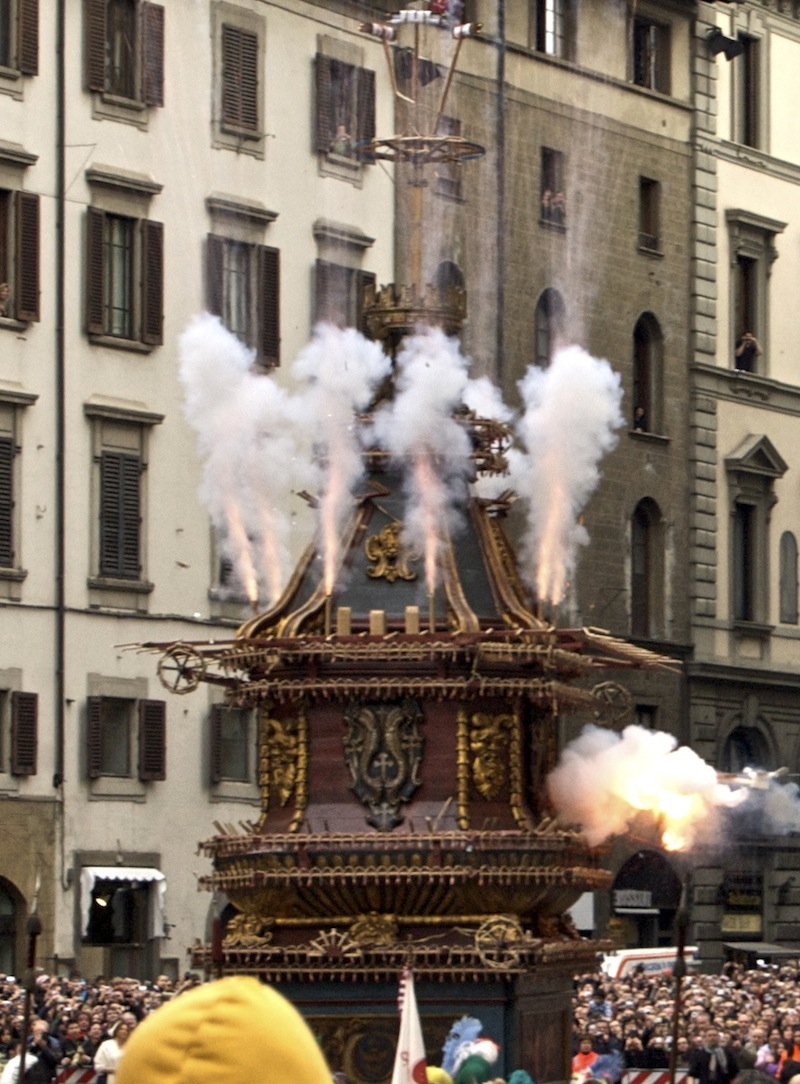 It is an ancient tradition that dates all the way back to the crusades, and an elaborate event that has to be seen in person to be fully appreciated. A large, towering wooden "cart" is pulled into the square between the Duomo and the Baptistry by huge white oxen and accompanied by much fanfare, flag throwing and bell ringing. Inside the church, a fake dove is ignited in the middle of mass and sent on a wire into the cart that is loaded with various fireworks and explosives (and I mean loud explosions that go one for several minutes - and lots of smoke). The quality of the fireworks predicts the fate of Florence for the year - while in the middle ages it was more closely linked to the quality of that year's harvest. If you are in Florence for Easter don't miss this extraordinary event.
The event starts around 10 a.m, with the The "Explosion of The Cart" happening around 11 - make sure you get there early for a good viewing spot! You can also enter the church for the mass, or follow the cart's procession before or after the ceremony.
---

MOSTRA INTERNAZIONALE DELL'ARTIGIANATO
2014 dates: April 24th to May 1st
Forezza da Basso

The "Mostra Internazionale dell'Artigianato" or "International Handicrafts Market" welcomes artisans from all over the world as well Italy. This is a great fair full of hand-made crafts from all over the world - clothing, furniture, carpets, jewelry, silverware, collectibles, gifts, wine & food. It features traditional handmade products that inspired by ethnic and classical history, and a mix of contemporary and classical tastes.
Visiting the Fair
For eight consecutive days, from 10:00 to 23:00, more than 800 exhibitors from all over Italy and 50 foreign countries are waiting for you with their "hand made" creations, live demonstrations, events, performances, and more.
New Features for 2014
New features for 2014 edition of the Fair are: Bellezza e Benessere (Health & Beauty), Garden Art, Centomestieri (A Thousand Trades), and the Tuscan Handicraft Museums.
---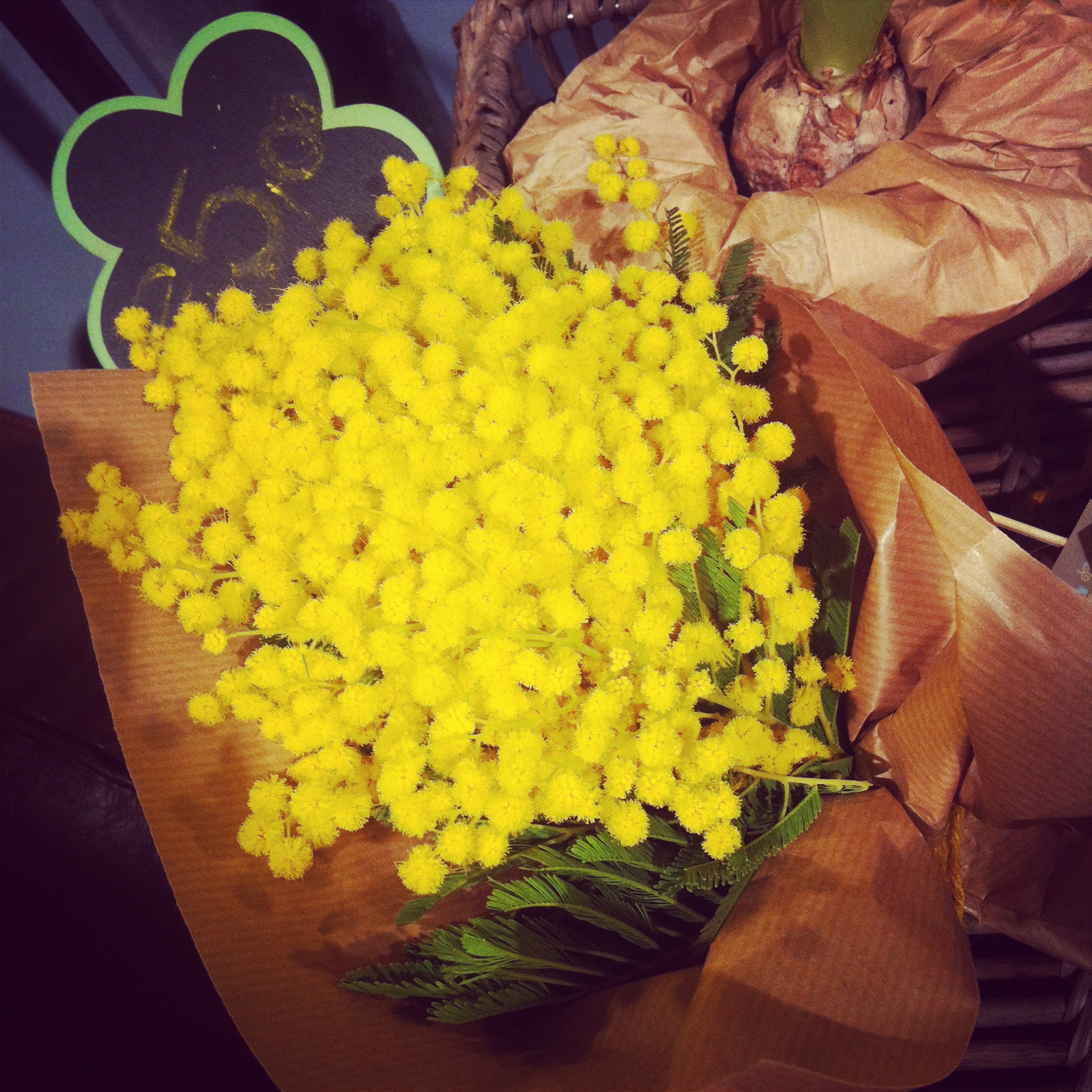 Each year on March 8 International Women's Day is celebrated throughout the world. The first International Women's Day was held in 1911. Thousands of events occur to mark the economic, political and social achievements of women. Organisations, governments, charities, educational institutions, women's groups, corporations and the media celebrate the day. Italian's call this day "Festa della Donna" and in Florence it is widely celebrated and usually includes giving women a traditional bouquet (which you will find in flower shops all over Florence):
"Traditionally the women are given a small bouquet of mimosa - yellow flowers in a small cluster, that emit a sweet fragrance, and spend the evening without male company."
(We usually break with the latter part of that - as I make a special dinner for the women in my life)
The origins of this day are many, including:
"...memorializing two events outside of Italy: a March 8, 1857, strike by women garment workers in New York, which led to the formation two years later of the first women's union in the United States, and a strike by Russian women calling for "bread and peace" on March 8, 1917 (February 23 on the old Russian calendar but March 8 in the rest of the world.)"
---
This annual event of the first pressing of Olive Oil from the town of Reggello is a great opportunity to get the full flavor of the spicy, green and gold Tuscan olive oil (our favorite!). And of course it is all for sale. For years they had set up in Piazza Santa Croce - but the info on their website has the festival taking place this weekend in Reggello (about a 45 minute drive for the center of Florence). If you have a car, I highly recommend it!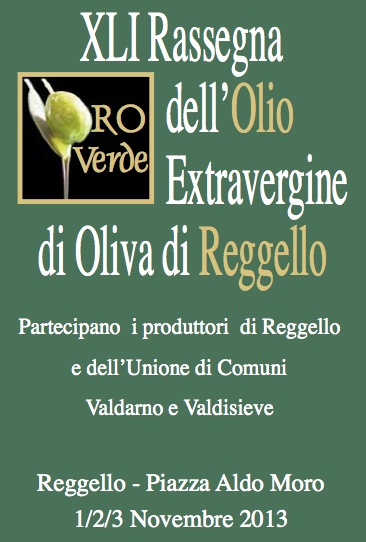 Here is a message from the Mayor of Reggello:
La Rassegna dell'Olio di Reggello, giunta all'onorevole traguardo della quarantunesima edizione, rappresenta un momento importante nella vita della nostra comunità .

Con l'anticipazione della data abbiamo voluto infatti segnare nuovamente,(come fu pensata in origine) l'inizio vero della campagna olearia.

L'olio ਠil prodotto di maggior pregio che la nostra terra produce. L'olio ਠsimbolo del nostro territorio, abbellito dal colore verdastro degli olivi sui terrazzamenti delle nostre colline; ਠil veicolo per trasmettere la qualità  della nostra agricoltura e l'eccellenza del nostro territorio.
La purezza chimica e organolettica del nostro olio trova le sue radici nella sapienza e nel lavoro della nostra gente che coltiva l'olivo da tempo immemore e che continua a farlo, pur tra tante difficoltà ,ancora oggi.

Venire a Reggello ad assaggiare l'olio nuovo, sarà  il miglior veicolo per trasmettere , attraverso il suo gusto unico e la sua bontà , la bellezza di un territorio e al tempo stesso la saggezza di un popolo che ancora sa privilegiare la qualità , il gusto del buono, il piacere del bello.

Il Sindaco
Dott. Cristiano Benucci
---
Here are some photos from the "Fiera della Ceramica", in Piazza Santissima Annunziata. This is an annual event that usually takes place the first weekend of October and is organized by the Arte della Ceramica. It is a wonderful market with so much unique work by a wide variety of European ceramists, along with some food local vendors and entertainment. Highly recommended!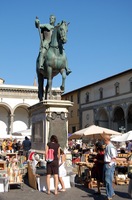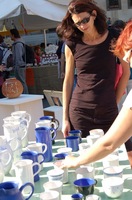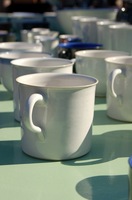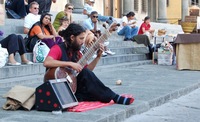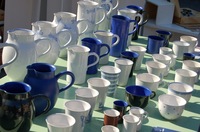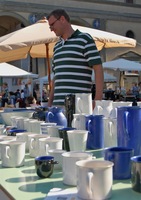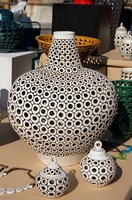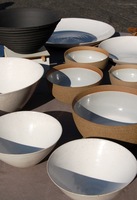 I have highlighted the work of German artist Heiner Bauer above. Heiner was always one of my favorite artists at this event year after year, but I am afraid to say that he passed away sometime in 2012.
There are also some amazing pieces by Stefano Innocenti among many others.
---
Up until 1750 Florence began the civic year not in accordance with the modern solar calendar on January 1st, but on March 25th, marking the start of the year from the religious feast of the Incarnation (which also - surely not by coincidence - is near the first day of spring).
There is a plaque in the Loggia dei Lanzi commemorating the event:
Continue reading
Florentine New Year
.
---
The Notte Bianca (check the link for up-to-date information) or "White Night" in Florence takes place on the evening of April 30th every year. The streets flow with people making rounds between food stalls, exhibitions, art installations, museums, dj sets, and live music and dance performances scattered throughout the center of Florence.
Continue reading
Notte Bianca
.
---
This event usually takes place sometime during the second half of March. You can always check their website for the most up to date information: http://www.koreafilmfest.com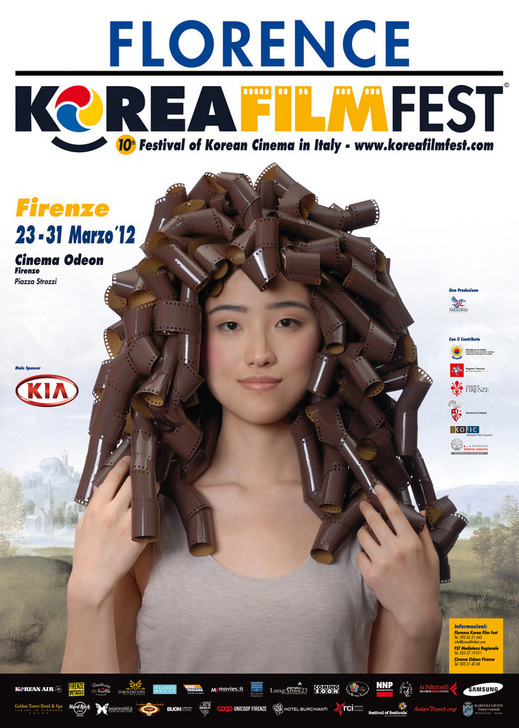 ---