Below are some of our most recent entries posted in the Restaurants category - use the links at the end of the page to access all the articles individually.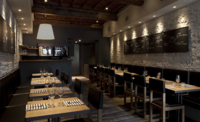 A newer and welcome restaurant in San Frediano, iO Osteria Personale offers an upscale and unique menu, with new twists on classic dishes - like carpaccio di manzo with pecorino gelato, tartare of Ricciola on a bed of ricotta topped with spinach, and an amazing chocolate soufflà© topped with dollop of olive oil and a pinch of salt, accompanied by basil gelato with a tomato based sauce. It is all extremely well done in a minimal but comfortable and quiet room, with attentive service and a very nice wine list. Their 4 or 5 course tasting menus are a perfect introduction to a unique restaurant you will no doubt want to return to every time you are in Florence.
LOCATION: Borgo San Frediano 167r, Firenze
TELEPHONE: 055 9331341
EMAIL: [email protected]
---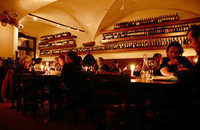 Il Santo Bevitore is not just a trendy restaurant - it is a very good one - with ample reason. The food is excellent, the prices are very reasonable for the center of Florence, the wine list is solid and fair, and the service is professional. Reservations are always recommended, as it can be full even on weeknights. We have had both lunch and dinner here on several occasions, and I can't think of a complaint. The atmosphere is friendly and casual and there are a couple of rooms, one closer to the bar, and a smaller one that is a bit more quiet.
As to the highlights, please see the photos below (taken in May of 2011). To me one of the most attractive aspects of Il Santo Bevitore is that the fare is not just traditional Tuscan. It is inventive and also features a lot of seafood, like raw Branzino and crispy grilled octopus. Also below the starters of purple cabbage soup and tortelli with artichokes, and desserts of rum cream and coconut crème brûlée with gelato. This meal with cover and a very nice bottle of Terlaner Terlano (a white blend) was € 85.
LOCATION: Via Santo Spirito 64/66r, Firenze
TELEPHONE: (39) 055 211264
EMAIL: [email protected]
---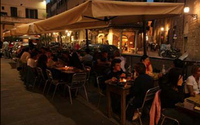 Founded in 1994 Osteria de' Benci immediately became a cult location for local Florentines. Signature tasty pasta dishes, savory grilled meats and a glass of fine wine softly accompanied by jazz and funky music, are the main ingredients of success for the osteria. Since it's opening it has expanded from a single dining room to include "il già¹" (downstairs), "il fuori" (outside), and il caffà¨, creating a corner of contemporary Florentine life in the heart of the anceint city.
LOCATION: Via de' Benci 13r, Firenze
TELEPHONE: (39) 055 2344923
EMAIL: [email protected]
---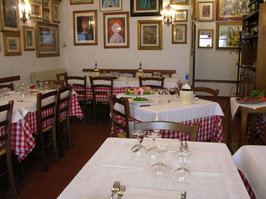 At the Trattoria I Due G you are able to enjoy the most famous dishes Tuscany has to offer cooked to perfection. Try some classic favorites like Truffle Pasta, Artichokes and Fried Courgette flowers.
Their renowned bistecca fiorentina is famed throughout Italy, as well as their succulent roasted lamb that comes accompanied by choice seasonal vegetables. All of which can be polished of with fresh fruit, home made desserts, coffee and fine liqueurs. All of this served in the warm, welcoming and homely atmosphere and decor that is typical of both Tuscan hospitality and family run businesses.

LOCATION: Via B. Cennini 6r, Firenze
TELEPHONE: (39) 055 218623
---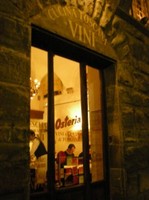 Osteria del Caffe Italiano is the place for a light lunch at a special price, for a tasty snack with the best salami and cheese form Tuscany, for an aperitif in the evening and dinner after the theater. The food is made of simple recipes, prime ingredients searched with passion in every corner of the region.
The small Pizzeria of Caffe Italiano is connected to the Osteria but has a separate entrance. Here, only the pizza is available and they don't accept reservations. There aren't many seats but it's worth the wait to eat what many to consider to be the best pizza in Florence. With only 3 choices, Margherita, Napoli and Marinara the pizza is prepared with love and cooked in the authentic method of Napoli.
LOCATION: Via dell'Isola delle Stinche, 11r, Firenze
TELEPHONE: (39) 055 289 080
EMAIL: [email protected]
---
Perseus is guaranteed to please a variety of tastes with an excellent selection of all the quintessential Tuscan appetizers, hearty bean soups, salads, pizzas, wine, home-made desserts and their specialty, marvelous grilled meats. Included in this area is of course the bistecca fiorentina, which you must be prepared to eat 'al sangue', rare, as the integrity of the chef won't permit it to be consumed any other way. Freshly cut vegetables, as opposed to the usual bread basket, are presented at your table upon arrival, providing something to munch on while keeping your appetite strong for the delicacies to follow.
Although this bustling and unpretentious restaurant is all about the food, the energetic staff and traditional surroundings add to the culinary experience. Don't forget to reserve!
LOCATION: Viale Don Giovanni Minzoni 10r, Firenze
TELEPHONE: (39) 055 588226
---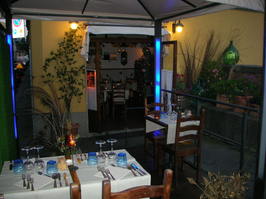 In the charming area of Ponte Rosso, you can find Pane e Olio, a wonderful and welcoming little restaurant with a maximum capacity of 34 people. Brothers, Francesco and Alessandro from Genova, manage the restaurant with passion. The specialty is fresh fish and selections from the 'a la carte' menu change daily. In the evening you can eat dinner under the stars in the garden accompanied by pleasant music. Wine choices include many from the Liguria region of Italy. Excellent service and high quality products makes the difference at Pane e Olio.
LOCATION: via Faentina 2r, Firenze
TELEPHONE: (39) 055 488 381
EMAIL: [email protected]
---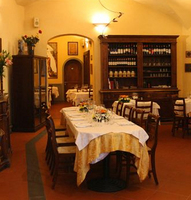 At L' Osteria di Giovanni you can always expect great food and friendly service. It's a family affair with english-speaking sisters, Caterina and Chiara, taking charge and providing a comfortable and welcoming atmosphere to their clientele consisting of a mix of well-dressed italians and tourists. Among a consistently delicious menu of new versions of Tuscan favorites, the Tortelli is a pleasure not to be missed.
LOCATION: Via del Moro 18r, Firenze
TELEPHONE: (39) 055 28 48 97
EMAIL: [email protected]
---
Since 1945 Buca Dell' Orafo has been offering to Florentines and tourists, traditional Tuscan plates in an atmosphere that reproduces the typical environment of an ancient Florentine restaurant. It's also open for lunch but isn't the place for a fast meal. To eat properly requires time and as such the service is relaxed. The wines offered include the best that Tuscany has to offer as well as a few choices from other regions and a nice house wine. The prices are modest, as Giordano explains, "In these years I have also tried to work on the prices".
LOCATION: Via de' Girolami, 28r, Firenze
TELEPHONE: (39) 055 21 36 19
EMAIL: [email protected]
---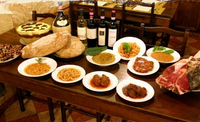 Right near the Duomo, at the very heart of Florence, on Via del Proconsolo shadowed by the Bargello, lies a piece of Tuscany worth discovering. It will seem upon entering Le Mossacce that you are in a Florentine home. You will be greeted by the informal and sincerely open arms of the Fantoni-Mannucci family, which for over 50 years has run this restaurant always preserving the local gastronomic traditions. You will be surrounded by the sweet smells of the local dishes, ribollita or the inzimino; you will be able to choose the very cut of your Florentine beefsteak, and also from the kitchen you will be able to uncover the secrets of Florentine recipes.
On the menu you will always the freshest products cooked with that very simplicity and flavour that has made the Tuscan cuisine famous throughout the world. All, of course, to be accompanied by an optimum Chianti. But, above all else, here you will be able to make new friends. In this restaurant, noted by Florentines as a great
place to dine, you will be able to ask about local happenings in the city and also discover Florence and her true spirit outside the classic tourist routes.
LOCATION: Via del Proconsolo 55r, Firenze
TELEPHONE: (39) 055 294361
---